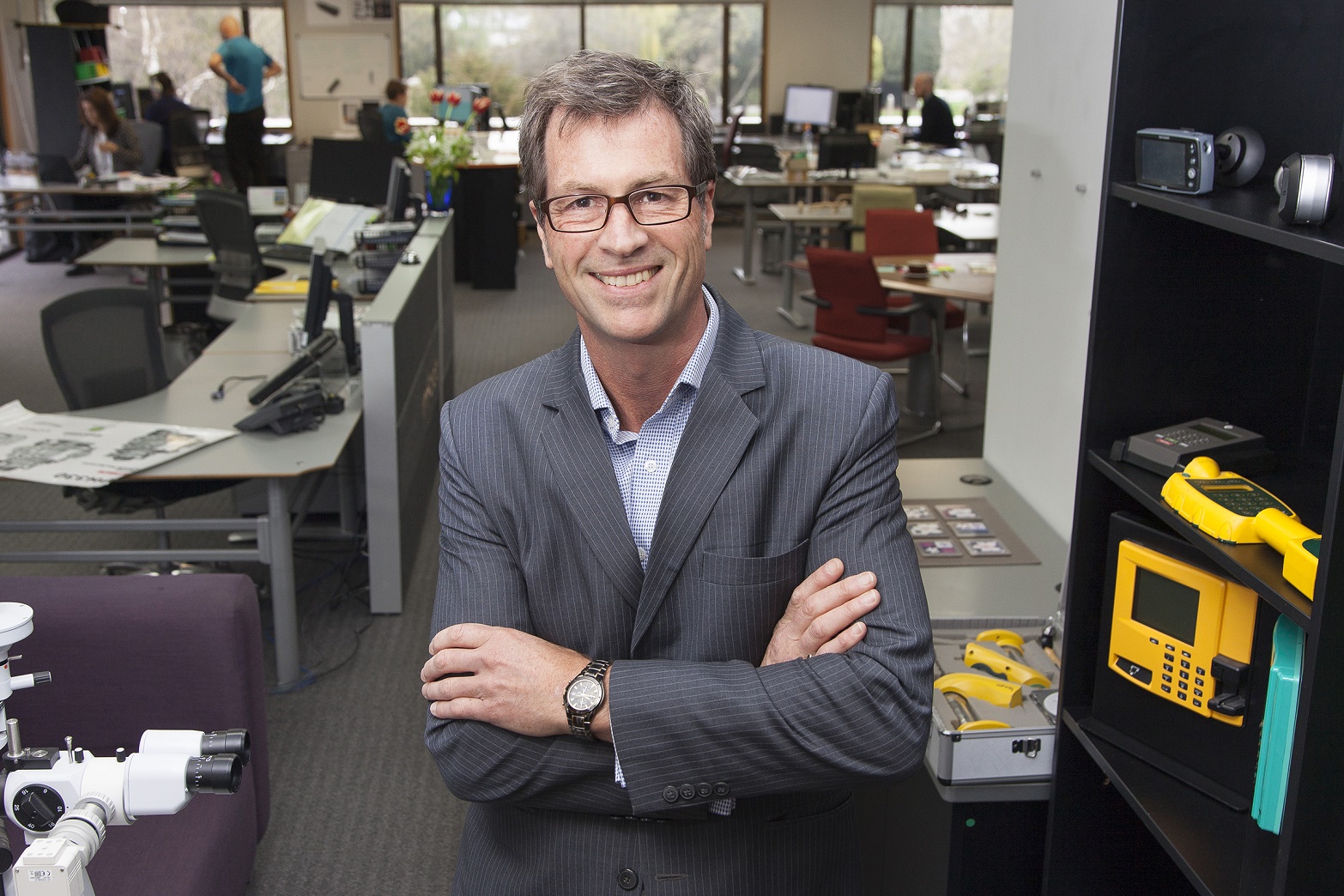 Christchurch – October 8, 2015
He is passionate about his work but can be hard to track down because he is always on the move, one step ahead, looking for new innovation opportunities he can design and development to help New Zealand grow.
He has produced Navman accessories, world-first wheelchair remotes, parking meter systems, world first chip-card devices, a range of tools to find out which pine trees are best for building construction and was a key figure in Fisher & Paykel's mechanical design team on the hugely successful Smart Drive washing machine.
Sharplin's Christchurch company inFact is a finalist in three categories at the New Zealand Innovators Awards to be held at the Cloud in Auckland next week (October 15).
Sharplin was born at Leeston in South Canterbury, grew up in Richmond, Nelson, and attended Waimea College. His father was his mentor and motivation for him to receive his Mechanical Engineering degree with honours at the University of Canterbury.
"My father is a very clever engineer who taught me how to solve problems by thinking. I always wanted to be a design engineer and run my own business developing innovative products. Engineering has given me the freedom to express my creativity to make real change in the world for good" Sharplin says.
"After university I loved being a part of the game changing team at Fisher & Paykel which taught me the philosophy and values that drive inFact's methodology and approach. Fisher & Paykel set out to change the world of appliances by innovating every aspect of the washing machine except that it washes using water. Samsung copied it, everybody but Jack Welsh himself from GE visited Fisher & Paykel during the development when they were doing a licensing deal and the technology has become very much the state of the art globally
"After I set up inFact I was invited by GPC Electronics to a meeting in Wellington with Industrial Research Limited and the Carter Holt Harvey (CHH) subsidiary Fibre-gen to help productionise the Hitman HM200 timber testing product. We did that and it was a great. Fibre-gen then asked us to develop the Hitman ST300 tool which was a complex and expensive development. We ended up taking a 20 percent stake in the business when they asked if we would complete the development at our cost in exchange for shares. When Graham Hart bought CHH, management sold Fibre-gen to inFact and director Peter Carter.
"To date my best achievement has been the formation and growth of the inFact design business. This type of professional practice is essential to the future value of the New Zealand economy. With a thinking approach to the creation of game-changing innovative new products customers want to buy we can build a strong first world economy here.
"As British inventor and Dyson company founder James Dyson said when he was in New Zealand advising our government: 'without a high tech manufacturing sector New Zealand cannot create enough wealth to sustain growth and maintain parity with other nations'. The German manufacturing sector earned $US5000 per capita in 2014 while New Zealand earned $165 her head so we have a long way to go.
"We are currently working on several large product and system development initiatives that will help New Zealand grow faster. With ZIP Zero Invasive Predators Ltd which is a charity set up by the Department of Conservation, Next and Sam and Gareth Morgan to eradicate rats, stoats and possums, our company inFact has been contracted to; develop new innovative systems for luring these predators to their traps and to support volume production of these for roll out across New Zealand's native and exotic forests and hinterlands."
InFact's designs have been translated into 100's of millions of dollars of export product for New Zealand. InFact have delivered internationally successful game-changing products for companies such as Carter Holt Harvey, Navman, Dynamic Controls, Integrated Technology Solutions and Provenco.
Sharplin and fellow director Peter Carter have secured 27 patent registrations for the use of acoustics in the grading of green wood involving their Hitman HM200, ST300 hand tools that have become the gold standard internationally for forest wood assessment. Hitman PH330 product is Sharplin and Carters latest invention which measures trees automatically while being harvested and sends them to the right mill for processing. This invention alone will create and estimated $200 million of new value for the forestry sector in New Zealand according to Scion.
The world is waking up to the benefits and opportunity of construction of high rise buildings using engineered wood products such as laminated veneer lumber and cross laminated timber panels which are both manufactured in New Zealand.
"A seven storey timber structure survived the equivalent of nine Kobe earthquakes on a Japanese earthquake simulator platform with no discernible damage. Wood is the ultimate resilient and renewable resource for construction," Sharplin says.
The Hitman range of products is how the forest owners segregate the timber for these wood processors. We must however make decisions at the point of harvest based on the value of the timber and not just the commodity based volume of it.
"Wood processing and manufacturing is New Zealand's third largest export sector at $2.5 billion a year and if log exports are added it's almost on a par with second-placed meat exports. In the central North Island we've lost 100,000 hectares of forest land in the last few years to dairy farming.
"This is simply driven by economics as high export log prices drive replanting regimes. By extracting the highest value wood from our forests and processing this in New Zealand for value added export products we can ensure a strong forest industry.
"Scandinavia has proven countries can sustainably fuel an entire first world economy using wood products. They just put their minds to the task as nations and made the decision to create a zero emissions economy. We can do this in New Zealand if we are prepared to make a commitment to achieving this and not be influenced by the traditional concrete, steel and fossil fuel corporations.
"There is a massive 50 percent increase in the volume of plantation wood coming online in 2020. We need to get organised now to ensure that at the time we harvest this wood we can turn it into high value logs and wood products and not simply sell it to the commodity log market. We can lift the value of the forest wood sector from $5billion at our current volume and processing regime to $12billion with the increased volumes and if we take on this challenge of enhancing the value of the harvest," Sharplin says.
For further information contact inFact managing director Nigel Sharplin on 021 377816 or Make Lemonade media specialist Kip Brook on 0275 030188.
Photo: inFact's Nigel Sharplin at a logging site with contractor Jason Brook.