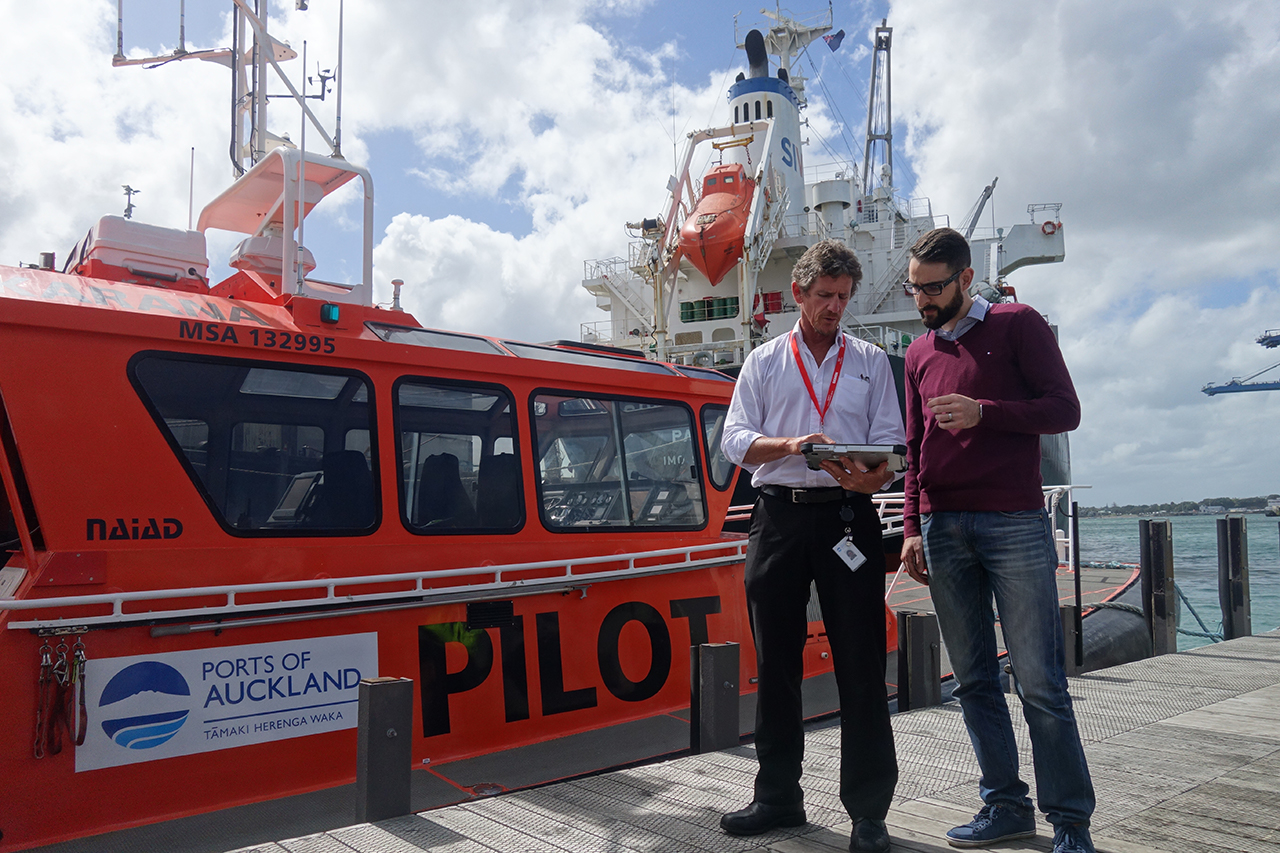 Auckland – A new app for the Ports of Auckland will significantly improve piloting of ships into the harbour, Christchurch LWA Solutions apps designer chief executive Atta Elayyan says.
The app is the first fully digital piloting solution of its kind in Australasia. It increases efficiency and reduces room for human error by consolidating multiple processes into a single app solution highlighting ship schedules, tidal calculations and manouvre drawings. The Ports of Auckland has about 1500 shipping arrivals a year.
Elayyan says the app facilitates a much richer and clearer communication between pilot and captain which is less time consuming and safer. It also eliminates the need for a paper trail and facilitates for digital records of every movement which is key in the event an incident occurs.
"We have been working with the Ports of Auckland for more than two years now on digital transformation initiatives. One of these initiatives was a solution to streamline their existing master pilot exchange process which we began brainstorming in May last year," Elayyan says.
"Every ship that docks at the Ports of Auckland is actually piloted in by a Ports of Auckland pilot, not the captain of the ship, and there are several processes in place to ensure this exercise is safe and is well documented.
Auckland's safety record is impressive as it stands but the introduction of this app will see many improvements around efficiency and accuracy.
"Some of the major problems and issues they were facing was around tidal calculations and determining if a ship was safe to dock at a given time.
These calculations were done via a highly complex static excel spread sheet.
"Pilots had to use an internal website to view ship arrival times, input ship details manually into the spread sheet and print out the results to display to a ship's captain reassuring him the ship was safe to dock.
"Pilots would then manually draw on a map imbedded within the spread sheet printout to outline how they would manouvre the ship into dock. This printout would also act as the legal document which the ship's captain would sign and keep as a record that they were briefed on the process.
"We have been able to significantly improve this process. Consolidating the multiple solutions pilots were using to complete their task into a single one has enabled big efficiencies. The aim was to produce a single app that ran on the pilot's tablet which would display incoming ship schedules and their respective tidal calculations in one place and be accessible at the click of a button.
"By eliminating the need for static excel spread sheets which required frequent updates the solution become far more robust, required far less maintenance and reduced any potential for error.
"As with every innovation project we tackle, when the Ports of Auckland tasked us with this challenge we had members of our design and development team accompany Senior Pilot John Barker on various ship arrivals to observe the existing process first hand.
"The exercise was fascinating. What John and his colleagues do require many years of education and experience. The process of simply boarding the ship was like something out of the movies. The major takeaway that we got by observing John in action was how he communicated with the ship's captain and crew and the confidence in which he had to approach the situation."
For further information contact LWA Solutions chief executive Atta Elayyan on 021 1453358 or Make Lemonade media specialist Kip Brook on 0275 030188
Photo: LWA Solutions' chief executive Atta Elayyan, right, with Ports of Auckland pilot John Barker