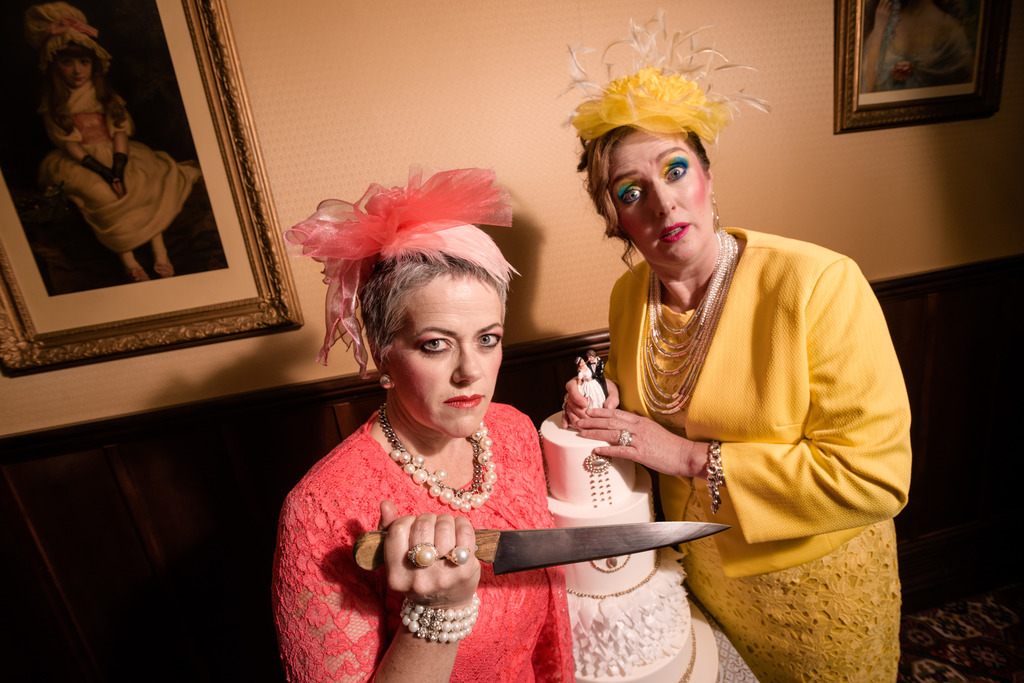 The Court's new play Ropable is an ambitious black comedy riddled with Hitchcock nuances.
The Christchurch Court Theatre's latest play, Ropable, takes its audience to the Hitchcock-themed MacGuffin Hotel where a wedding is set to take place between the beautiful daughter of a famous crime novelist and her mother's narcissistic ex-husband.
A savage storm quickly looms leaving the small wedding party secluded and unable to connect with the outside world. This adds to the suspense of a somewhat doomed wedding as seduction lures in the lobby and a mist of irrational thinking has the weekend take a surprising turn.
Ropable is an original play co-written by the Court's artistic director, Ross Gumbley, and Auckland-based Allison Horsley.
Gumbley had planned to introduce the 1929 Patrick Hamilton play Rope to the Court in 2011 but unfortunately the script was buried within earthquake rubble at their old Arts Centre location. He finally managed to retrieve the script in 2015 and Rope still seemed relevant, sparking new inspiration which ultimately lead to the creation of Ropable.
Ropable set out to be a simple adaptation of Rope which was the basis for the 1948 Hitchcock film of the same name but the play took on a new direction and ended up being completely overhauled with only minor similarities to Rope. Instead, the set and script are peppered with Hitchcock references in striking tribute to The Master of Suspense.
On set, the Hitchcock films Vertigo and Psycho have hotel rooms named after them and the lobby is fantastically decorated with Hitchcock memorabilia.
Set designer Harold Moot nailed it with his Hitchcock-themed lobby providing the perfect dark and stormy atmosphere to captivate any audience. There are more than 20 pieces of taxidermy on the set cleverly acknowledging Pyscho's Norman Bates, whose hobby is taxidermy. These pieces play a key role in the play as a springboard for characters to express emotions by way of humour and fear.
Ropable begins with captivating suspense as one character frankly declares to the audience that they will commit murder. The suspense soon wavers however, as more twisted characters are introduced and the mystery is overpowered by fake American accents and acquired comedic references.
The humour introduced by Lara Macgregor as naive Aunty Prudence was enjoyable and her character was easy to fall in love with as she faultlessly prompted laughter from the crowd.
Cameron Rhodes as America's favourite uncle, Montgomery Parker provides some firm authority when it comes to sex drive which, with the assistance of a little blue tablet, may be a pleasant distraction for some of the audience but for others, it's just plain awkward.
Rhodes also played a more suited second character as father of the bride and genuine Kiwi, Nigel Forsyth. His warmth shines through as a doting father wanting nothing but to ensure his daughter is safe and happy. The introduction of Nigel Forsyth's character on stage works like a dream and is a pleasant relief compared to that of Montgomery Parker.
It's obvious the writers were dedicated to detail in creating this play. Fans who revere Hitchcock are the most likely to appreciate this effort and relate to the many film references on set and in script.
While Act One was substandard for the most part, Act Two re-introduced the intensity that tempted the audience from the beginning with surprising unpredictable twists and clever slow motion scenes of desperation.
With minor refinements, the characters could attract more worthy empathy and this ambitious play would bring on the heightened levels of discussion and thinking that Gumbley and Horsley set out to achieve.
Prospective audiences should expect more dark comedy than terrifying murder mystery from this play.
Ropable: Co-writers Ross Gumbley and Allison Horsley. Director Ross Gumbley.
Showing at The Court Theatre until 4 March 2017. Book tickets here.