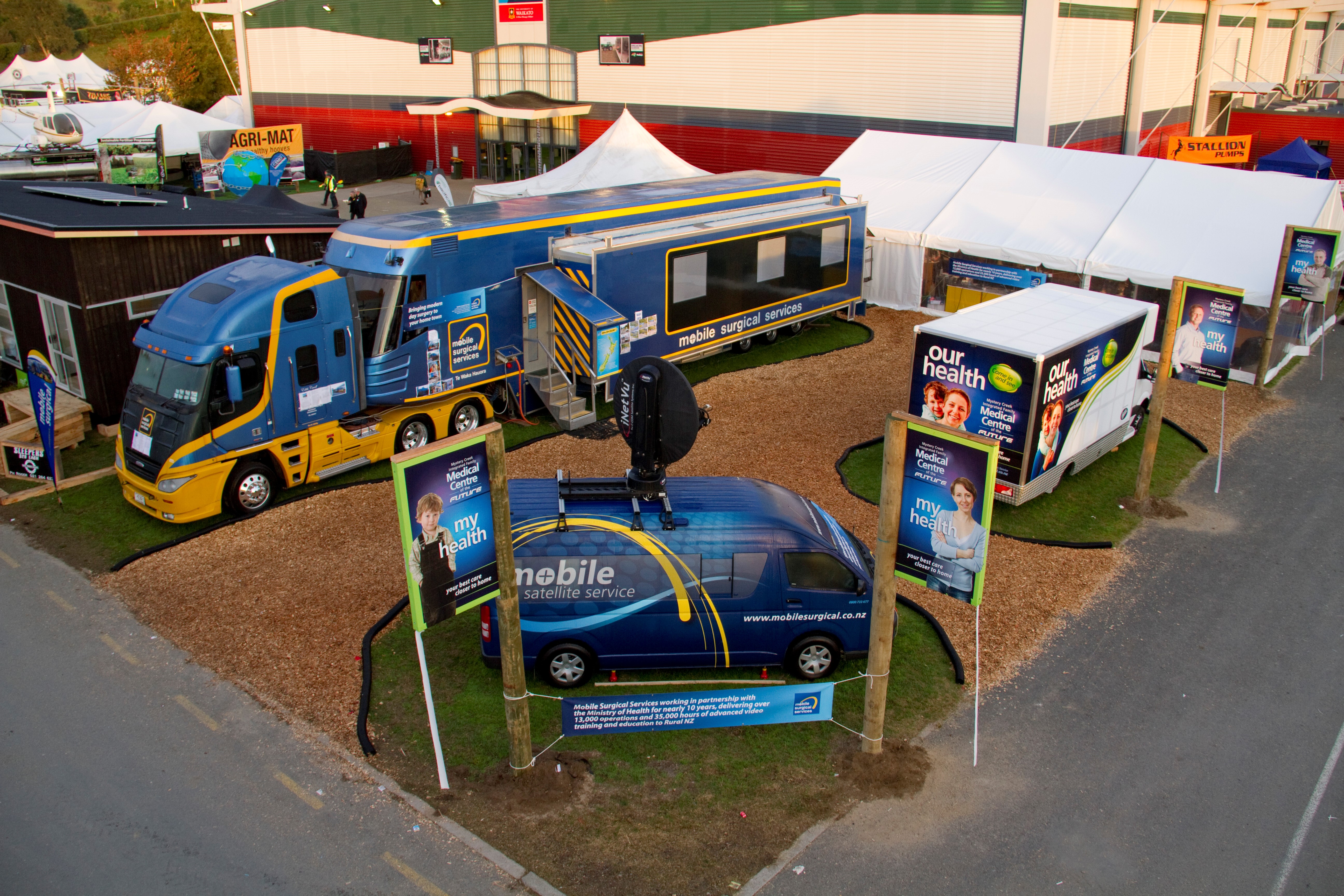 Hamilton  – The health of New Zealand's rural communities is at an all-time low, a leading mobile health expert says.
Mark Eager, chief executive of Mobile Health and the national mobile surgical bus, says rural people find it hard to access health professionals. They often receive treatment much later than people in cities and their condition is often acute when they get sick, even though early detection is key, he says.
"Mental health of rural New Zealand is at a tipping point. Mobile Health and our mobile surgical bus will feature in the Health Hub at the national Mystery Creek Fieldays this week.
"The hub will include more than 20 health providers showing how to improve health and provide practical demonstrations. We'll will have interactive displays that will give the public a hands-on look at health.
"Auckland hospital emergency department specialist Dr Tom Mulholland will be testing for diabetes and cholesterol; Melanoma NZ is looking at sun damage to skin; the Rural Support Trust, Men's Health, Breast Cancer awareness, Oral Health, Rural Women, Water quality will all be involved.
"The Rural Bachelor of the Year will have a challenge on Wednesday and the surgical bus will be performing an operation that will last for four days. The public will be able to wander through and look at this first hand."
Eager says there is growing government concern regarding rural health due to things like dairy prices and drought which is impacting on the mental health of so many rural Kiwis.
Small countries like New Zealand rely on the outreach and open support of health organisations to stay connected, which is why the Fieldays' health hub is of such a huge benefit, he says.
"The reason why the surgical bus is so critical in rural areas is providing access to care closer to home. It uses local people which means it is 'owned' by them. This increases the local skills."
New Zealand's mobile surgical bus marked its 15-year anniversary earlier this year after more than 21,300 operations in 24 towns.
The bus runs on a five-week rotation system around New Zealand, carrying out operations at Kaikohe, Dargaville, Warkworth, Pukekohe, Te Puia, Wairoa, Taumarunui, Waipukurau, Taihape, Hawera, Levin, Dannevirke, Kapiti, Featherston, Takaka, Motueka, Buller, Waikari, Rangiora, Oamaru, Clyde, Queenstown, Balclutha and Gore.
A report by health consultants, Sapere Group, has found up to 300 patients annually would probably miss out on surgery if was not for the mobile surgical unit, with its state-of-the-art surgical operating theatre. The bus receives $4 million annually from the Ministry of Health.
For further information contact Make Lemonade editor-in-chief Kip Brook on 0275 030188.