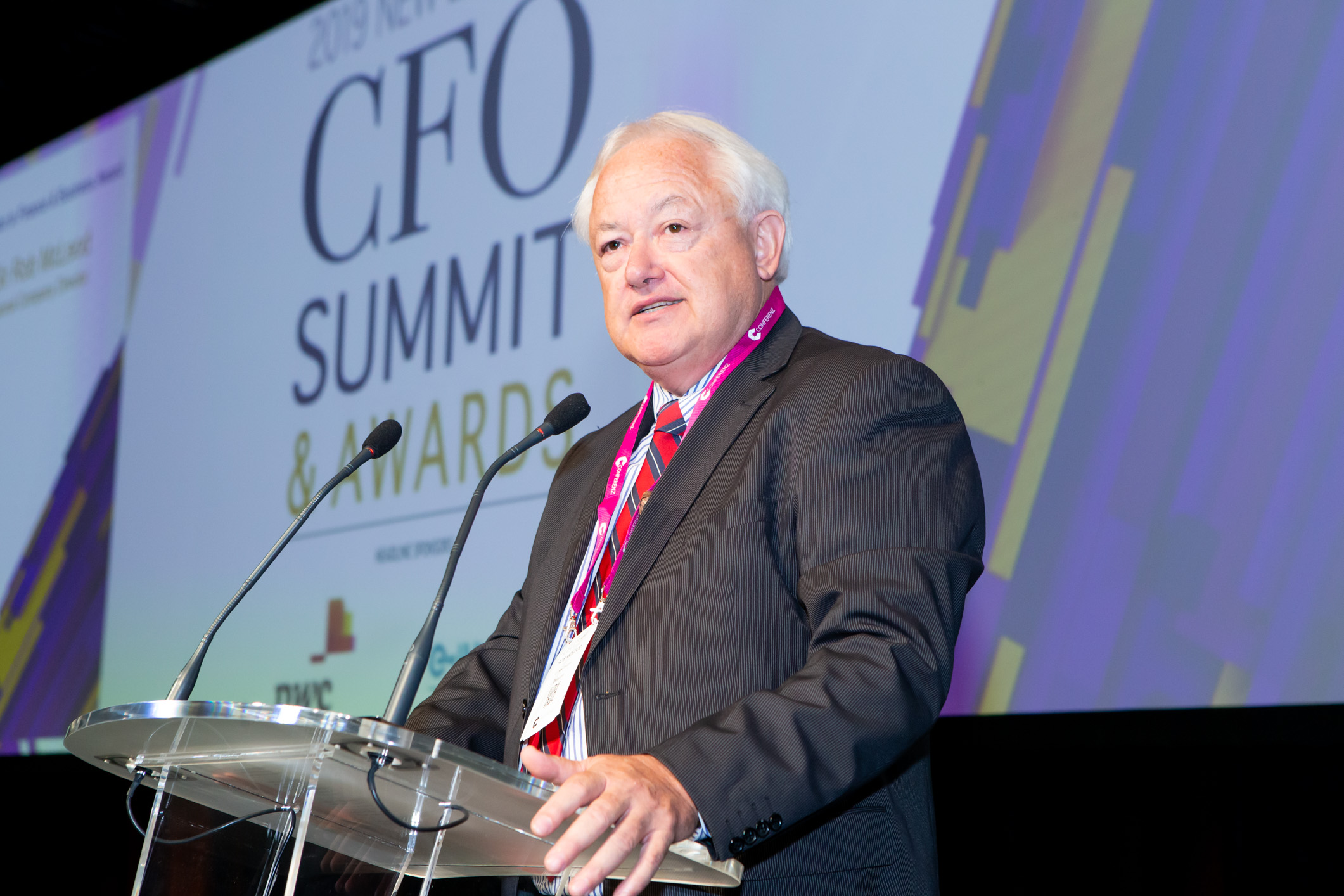 Auckland – Champion of trans-Tasman gender equity and indigenous engagement Sir Rob McLeod last night won the 2019 Outstanding Contribution to Finance & Business award at the annual New Zealand CFO Awards in Auckland.
Sir Rob, of Ngati Porou whakapapa, received the prestigious judges award for an outstanding career built on tax expertise, leadership as chief executive of accounting firm EY Australasia and an almost unparalleled role in finance, governance and Maori and Australian indigineous initiatives across both New Zealand and Australia.
Growing up in Manutuke, just south of Gisborne, Sir Rob claims not to have been a diligent student.  But, when a maths teacher challenged him to teach himself a segment of the syllabus, he spent the weekend before the exam swotting it up and topped the class.
After graduating with a degree in commerce and law, he decided a career in taxation would be the best match, joining Gilfillan Morris & Co. He was made partner in that firm at 27 years of age.
Sir Rob practiced as a tax specialist for more than 30 years. He held a number of senior leadership roles in New Zealand, Australian and Māori business organisations, including chairing the New Zealand Business Round Table for eight years and chairing the 2001 government tax review.
He served as chief executive and managing partner of Ernst & Young New Zealand, before being appointed to the same role for EY Australasia, for approximately five years.
During this time, he pushed an active agenda for gender equity and championed indigenous initiatives, including EY filing its first reconciliation action plan in Australia. He was also instrumental in actively transitioning EY's domestic focus on Australia and New Zealand to one of Asia Pacific integration.
Sir Rob also served on the Business Council of Australia's taskforces on Indigenous Engagement and Economic Policy and Competitiveness.
Being entrenched in commerce, with his Ngāti Porou background, he found his way to championing Maori interests, small business and entrepreneurship and a key driver of Māori economic development. He served on the 2004 Hui Taumata Taskforce to increase Māori participation, leadership and governance in the workforce.
As Ngāti Porou engaged with the government, Sir Rob took the role of lead negotiator from 2008 to 2010 and a member of the Māori Economic Development Taskforce.  He was also a member of the establishment team for Maori development agency Te Puni Kokiri.
Sir Rob's other governance roles include serving on an Independent Ministerial Advisory Panel for the Defence Review, the National Infrastructure Advisory Board and the Ministerial Taskforce on Tertiary Education and he has been a Commissioner of the Treaty of Waitangi Fisheries Commission, and chaired Aotearoa Fisheries Limited.
When it comes to directorships, Sir Rob has also had significant impact on business through directorships of Tainui Group Holdings, Telecom NZ, ANZ, Sky City, Gulliver Travel and Sealord.  Directorships currently held include deputy chairman of Sanford, chairman of Quayside Holdings and the E Tipu E Rea Trust and a director of the Port of Tauranga.
Those who know him often refer to his rigorous intellect and certainly he is a man who likes to think in frameworks.  He has used this approach to championing diversity within corporates, CFO awards event organiser Steve Scott says.
"He is quoted as saying his success in life derives from the opportunities provided by two strong-willed and nurturing families.  The one family he married into and the other one he was born into. This has been enhanced by the role models he has met along life's pathway," Scott says.
"Sir Rob has previously been recognised, being named Knight companion of the New Zealand Order of Merit for services to business and Māori."
Other awards included Nicki Florence as Emerging Finance Leader of the Year, facilities management firm OSC took home the Financial Innovation Project of the Year, whilst Xero was awarded Finance Team of the Year. The other big prize of the night went to Scott Scoullar, CFO of Summerset who was crowned CFO of the Year.
The CFO Awards are an annual gala function recognising the best and brightest of New Zealand's finance community and is hosted by stuff and Conferenz.
For further information contact Make Lemonade NZ editor-in-chief Kip Brook on 0275 030188
Photo: Sir Rob McLeod