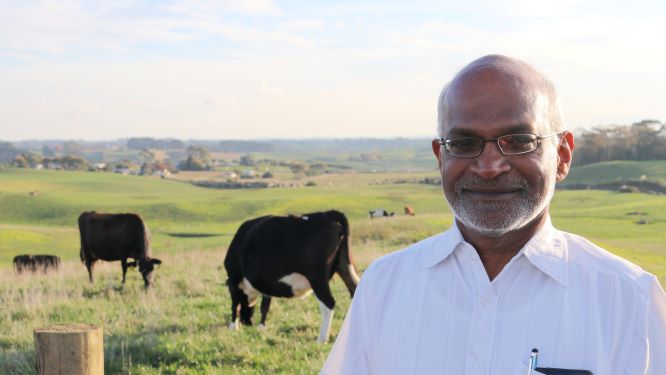 Auckland – Farmers can reduce greenhouse gas emissions and meet the targets set by the government's new climate change bill by looking at new biotech solutions, Zest Biotech chief technical officer Nathan Balasingham says.
New Zealand should consider the opportunity to earn carbon credits by implementing some or all of the recommendations of the UN's Food and Agriculture Organisation (FAO) to achieve a 37 percent reduction in methane intensity.
The FAO has recommended options to reduce agricultural emissions and farming's environmental footprint while continuing to ensure food security to feed a growing, richer and more urbanised world population, Balasingham says.
New Zealand biotechnologies such as Zest Biotech's Biozest and AgResearch's high metabolisabled energy ryegrass can increase productivity while reducing greenhouse gas emissions, he says.
"Both AgResearch and Zest Biotech have modelled the benefits, predicting an increase in farmgate returns of approximately $900 per hectare and a reduction of greenhouse gas of between 20 and 48 percent.
"At 30 percent reduction, a sheep and beef farm could deliver an estimated $23.40 per hectare in carbon credits. Zest biotech has also proven that urea excretion can be reduced by 20 to 48 percent.
"This means we can become a wealthier country, environmental champions and affirm our grass-fed milk and meat and clean, green NZ brands."
Biozest has been developed by New Zealand scientist Nathan Balasingham who was previously a DSIR scientist where he worked with world-renowned scientist Roger Slack on how plants produced oils or lipids.
This scientific background coupled with more than 40 years of scientific and entrepreneurial innovation, such as the invention of the frozen kiwifruit drink Kiwi Crush, enabled him to invent Biozest.
The mechanism of action of AgResearch's rye grass is very similar to Biozest. While the mechanism of action of both technologies involves lipids (oils). The difference is that in AgResearch's grass the initial metabolic pathway is induced via gene manipulation while Zest Biotech do it through molecular biology, he says.
"Biozest technology can be implemented immediately and there is no GMO or chemical residue barriers. All farmers, conventional, biological and organic can use our product. We are on a pasture-fed system which gives New Zealand an additional advantage if the Biozest technology is widely used.
"The UN's FAO estimates grasslands contain globally 343 billion tonnes of carbon, nearly 50 percent more than is stored in forests worldwide.
"Our Biozest treatment can double pasture productivity and therefore double the sequestration of carbon which the FAO estimates is around 100 tonnes per hectare. Biozest treatment increases pasture productivity eliminating the import or cultivation of supplementary feed, reducing another GHG liability.
"Our trial data shows productivity increases with Biozest which farmers will find reduces greenhouse gas and is more productive for their livestock," Balasingham says.
For further information contact Make Lemonade editor-in-chief Kip Brook on 0275 030188
Photo: Nathan Balasingham