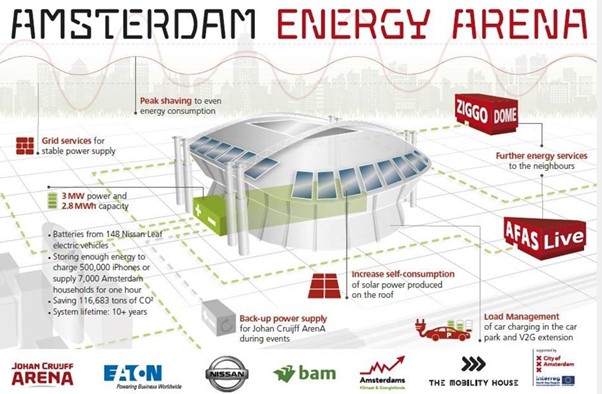 Otautahi – What new green or smart energy features will be included in the soon to be built $533 million Christchurch stadium, which should be finished about mid-2025?
A massive energy storage system that includes new and used electric vehicle (EV) batteries is powering Amsterdam's Johan Cruijff Arena, the home of Dutch football club Ajax.
It is capable of storing three megawatts of power,  enough to charge 500,000 cell phones or supply 7000 households in Amsterdam for one hour and its makers say it's Europe's largest commercial energy storage system using EV batteries.
The system combines power conversion units and the equivalent of 148 new and used Nissan LEAF batteries, which store green energy captured by 4200 solar panels on the roof of the stadium and also from the grid.
Its main purpose is to deliver back-up power to the stadium in case of outages or during heavy use.
But as well as providing a reliable source of sustainable energy, it will also relieve pressure on the Dutch electricity grid during concerts and other big energy-consuming events.
And during periods of low demand, the stadium can contribute power to the grid.
The arena is assured of a considerable amount of power, even during an outage. As a result, the stadium will contribute to a stable Dutch energy grid.
To minimise the footprint of the stadium and its visitors, the construction team used a mix of proven sustainability measures and innovative technology.
The stadium is the perfect testing ground for developing and testing innovations. Wherever possible, we take every opportunity to work on sustainability projects, big or small. The good thing is that these projects often benefit not only the stadium but also the immediate surroundings and society.
They keep the turf in optimal condition and frost-free with residual heat from the Amsterdam heating network. Via a separate cooling network, water from nearby meets the demand for cooling in the stadium's offices and changing rooms.
They have made it easier to collect waste separately and they we are gradually reducing the amount of residual waste. Reducing waste is also a key objective in their catering industry.
Tonnes of grass mown from the pitch find its way to a nearby farm for goats to produce milk and cheese.