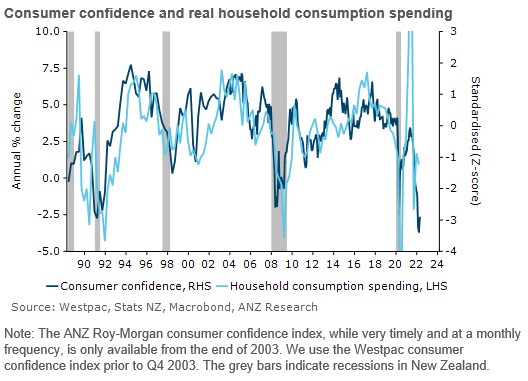 Otautahi – The latest ANZ research consumer confidence survey shows New Zealand consumers are miserable, and do not expect things to improve.
Consumer confidence is usually a timely indicator for household consumption spending (the biggest part of GDP), so understanding what's happening here is important.
While COVID disruption is likely an important factor, we think low confidence is a genuine reflection of the challenging economic environment households are facing.
Consumer confidence has also fallen sharply in our trading partners – despite rapidly tightening labour markets, and in some cases, record levels of labour demand. This synchronised drop in confidence has coincided with sharp increases in inflation and rising interest rates.
What does weak confidence mean for the outlook? We think it's a symptom of a softening outlook for household spending in New Zealand. But there are still (just) enough supports out there for household spending to not go backwards.
The pessimism we're seeing in consumers is a key reason for our expectation that, after a fourth 50bp hike in August, the RBNZ will return to 25bp hikes, and will then pause hiking after November's MPS (with a peak OCR of 3.5 percent).
By then, signs of slowing demand should be clear. That said, fighting inflation remains the name of the game – and the Reserve Bank won't stop until they are convinced they have done enough to bring inflation back to target.
Perceptions of current personal financial situations fell five points to 22 percent. A net three percent expect to be worse off this time next year, down two points.
It's very unusual for this series to be negative. Households continue to think it's a bad time to buy a major household item, but there was some improvement in June, up nine points to -21.
In an absolute sense, this is extremely low, and worrying for retailers. Perceptions regarding the next year's economic outlook deteriorated to -47 percent.
The five-year measure pared gains made in May, back at five percent. House price inflation expectations lifted from1.1 percent to 1.4 percent. CPI inflation expectations lifted 0.5 percent to 5.6 percent, fully reversing last month's decline.