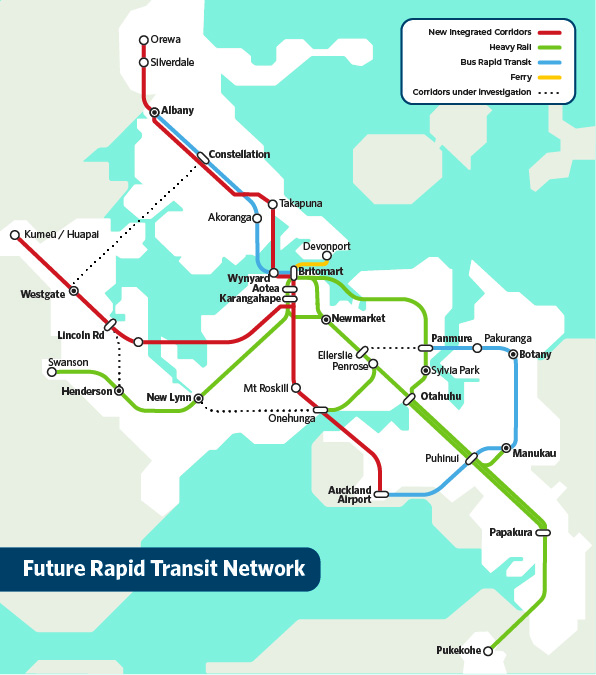 Tāmaki Makaurau – Auckland's transport infrastructure getting beefed up as it population keeps growing.
It is getting an additional Waitematā Harbour crossing, progressing light rail from Auckland's CBD to the airport and creating a linked-up rapid transport network as part of a 30-year plan.
Key decisions on additional Waitematā Harbour crossing to be brought forward to 2023, to integrate with light rail and with new rapid transit to the North Shore and northwest.
Government wants partially-tunnelled light rail from Auckland CBD to the airport, becoming the spine of Auckland's future transport network.
Light rail option will see transport available every five minutes from about 18 stops, cutting travel times from CBD to Airport in half for many.
The work will accelerate the economic recovery with the creation of up to 97,000 new jobs, and 66,000 homes by 2051.
Auckland's population is projected to rise to two million by early next decade. To move two million people around Aotearoa's largest city, connected infrastructure is needed.
Tāmaki Makaurau must have a connecting rapid transit rail network that will serve Aucklanders into the future, making it faster to move through the city, connecting communities, providing greater access to businesses.
The Northern Busway is growing by 20 percent a year and will run out of capacity in 10 to 15 years, so new transport options for the future are needed.
Features of the chosen light rail option are:
24km route with up to 18 stations or stops from the City Centre to Māngere and the airport, running every five minutes so people can turn up and go
Capable of carrying up to 15,000 passengers per hour at peak, which is four times more passengers than a dedicated busway or trackless trams
Removal of up to 13 car lanes or taking 12,000 cars off the road, which is a great result for local streets and carbon emissions
Includes safe walking and cycling along the corridor and with connections to all stations.
Estimated to bring up to 66,000 new homes by 2051 and open up housing along the corridor in Mt Roskill, Onehunga and Māngere.