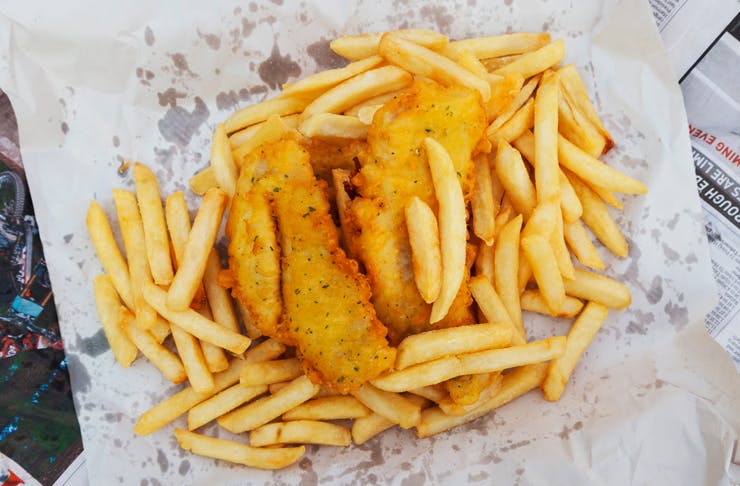 Whakatū – A new study finds a link between plant-based and pescatarian diets and milder cases of covid.
The study is based on the experiences of doctors and nurses with heavy exposure to the disease.
People whose diet is plant- or fish-based had a significantly lower risk of developing severe covid. But it seems that plant-based and / or fish diets may help lessen severity of covid infection.
Fish and chips remain Aotearoa's most popular takeaway, despite competition from burgers, pizza, sandwich chains, sushi bars and Indian and Chinese takeaways.
The two biggest players – McDonald's and KFC – spent a staggering $102 million on advertising in Aotearoa in the two previous years, according to the Nielsen research company.
For some people, covid is a life threatening illness, while for others, it is little more than a short-term annoyance. To some extent, this is a function of an individual's comorbidities. However, why covid manifests so differently in different people remains a mystery.
Some research has indicated that this may have to do with a person's diet, and a new six-country study involving people working on the front lines of covid care provides striking new evidence.
Healthcare professionals eating a plant-based diet were 73 percent less likely to experience moderate to severe covid, and those following a plant- or fish-based diet were 59 percent less likely to get seriously ill.
Their results suggest that a healthy diet rich in nutrient-dense foods may be considered for protection against severe covid. The study appears in the journal BMJ Nutrition, Prevention & Health.
The researchers surveyed 2884 doctors and nurses whose work with patients exposed them to covid. The participants were from the United States, the United Kingdom, Spain, Italy, France, and Germany.
The survey was designed to reveal the association between self-reported diets and covid infection, severity, and duration of symptoms.
Of the entire group, 2316 of the participants had not experienced any covid symptoms or tested positive for the virus. These individuals served as the study's control group.
The remaining 568 individuals either had symptoms consistent with covid or a positive swab test. Of these, 138 people reported moderate to severe covid. The rest had only mild or very mild cases of the illness.
Compared with those following plant-based diets, people who reported eating a low carb, high protein diet were four times more likely to develop moderate to severe pandemic symptoms.
The study highlights the need for further research on the association between diet, nutritional status and covid outcomes.