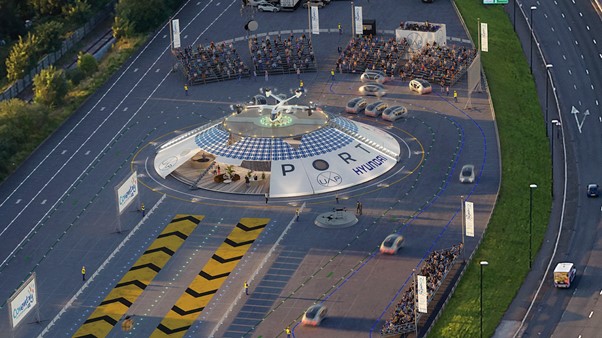 London – A pop-up airport for electric flying taxis will be in operation next month near the UK city of Coventry.
The market for electric air taxis could be worth $US500 billion in the US alone. But the technology still faces regulatory challenges.
Is it a bird? Is it a plane? Or is it a flying car coming into land at the world's first-ever airport built specifically for electric flying vehicles?
The Coventry Air-One facility will be open for just one month, and is a collaboration between government agencies, private-sector businesses and the aviation industry.
It has been developed by Urban Air Port, with the involvement of the Urban Air Mobility Division of Hyundai Motor Group and Coventry City Council.
The world's first electric flying vehicle airport, near Coventry, UK, will open for a month in November 2021.
The pop-up airport is being built as a proof of concept of a zero-emissions hub for future modes of travel. Electric vertical take-off and landing (eVTOL) vehicles are being suggested as a low-carbon way to ease congestion as people travel between urban centres.
Cars need roads. Trains need rails. Planes need airports. eVTOLs will need urban airports.
Air-One will bring clean urban air transport to the masses and unleash a new airborne world of zero emission mobility.
There are no flying cars or passenger-carrying drones operating in the UK currently. Still, the facility is said to be attracting interest from logistics companies in particular.
The use of airborne drones to deliver parcels has been dismissed almost as often as it has been discussed, due to the challenges of their operation in densely populated areas.
But the technology could prove useful as a way of transporting goods between transport hubs, and large cargo drones will be featured at the site.
Ride-share business Uber and Hyundai announced they were working together to develop an Uber Air Taxi service at the January 2020 Consumer Electronics Show in Las Vegas.
They also unveiled a full-size model of one of the planned aircraft. Called the S-A1, it will be 100 percent electric, take off vertically, then transition to wing-borne lift; it can carry four people at speeds of up to 290 kilometres per hour at an altitude of between 300 and 600 metres.
The eVTOL aircraft are quieter, lighter, cheaper and more environmentally friendly than helicopters.
The idea is that such vehicles could make it possible for people to travel short distances across urban sprawls and take the pressure off existing, congested transport links.