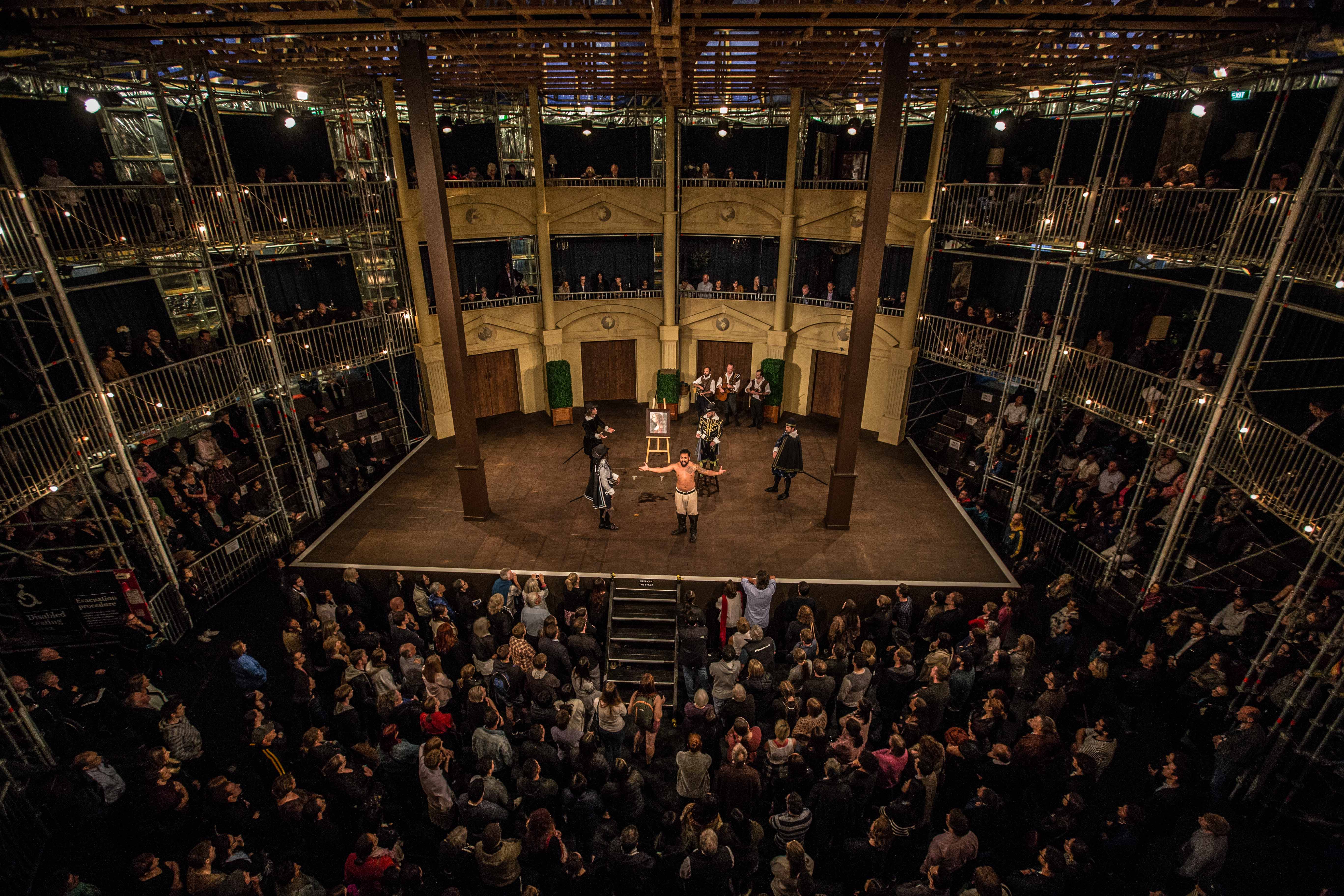 Auckland – Auckland's Pop-up Globe, the world's first temporary working replica of the second Shakespeare Globe theatre, has won the best regional event award at the gala New Zealand event awards in Auckland tonight.
The show received the prestigious award at the New Zealand Association of Event Professionals (NZAEP) annual awards at the Auckland Museum. Wellington Remembers (World War 1), Southern Field Days Gore, the Auckland Writers Festival and the Sparks 2016 classical concert at Hagley Park in Christchurch were the other regional finalists.
The smash hit Pop-up Globe performances are believed to be the largest, most successful home-grown theatre event in New Zealand history.
The brainchild of international theatre expert Dr Miles Gregory, Pop-up Globe was brought to reality in just 15 months from concept to delivery. The idea was born when Gregory read a bedtime story to his young daughter: the book featured a pop-up version of the Globe theatre and the idea was born.
Organisers wanted to provide the largest festival of Shakespeare ever seen in the southern hemisphere, including two major new productions and hosting numerous NZ theatre companies over a 10-week season to mark the 400th anniversary of Shakespeare's death. They wanted to sell 50,000 tickets but finished up selling 94,000 tickets to 128 performances of eight different Shakespeare plays.
NZAEP chief executive Vicki Watson says the Pop-up Globe captured the hearts of New Zealanders. The season was extended twice, taking it to a record-breaking total of 12 weeks.
"It was the subject of an independent international academic symposium, and secured international news coverage from The Daily Telegraph to The New York Times. By the close of the season on May 8, the Pop-up Globe had welcomed more than 280 actors from seven different theatre companies performing on stage, safely managed a 900-person capacity theatre for twelve weeks and had hosted 20,000 school students and teachers from around New Zealand.
"From the outset the Pop-up Globe Auckland had a compelling vision to create the world's first temporary working replica of the second Globe theatre. In an independent survey of 1800 attendees, 96 percent rated their experience as satisfied or very satisfied.
"It sold more tickets than any other home-grown theatre event in New Zealand history; presented the largest Shakespeare festival in Australasian history; offered nearly half of all tickets for $15 or less, making it accessible to diverse communities; and perhaps most extraordinarily, was delivered by a team who had never worked together before and who were drawn together to deliver a shared vision that proved to be a historic success."
The judging panel included Tourism NZ chief executive Kevin Bowler, Creative NZ chief executive Stephen Wainwright, head of NZ Operations for the ICC Cricket World Cup 2015 Dame Therese Walsh, NZ Media and Entertainment Michael Boggs and Eventfinda chief executive James McGlinn.
NZAEP was set up 10 years ago to advocate for the burgeoning events sector in New Zealand. The annual awards aim to establish excellence in benchmarking the industry, judging not just what the event is, but how it was run.
For further information contact NZAEP chief executive Vicki Watson on 027 5376088 or Make Lemonade media specialist Kip Brook on 0275 030188.
Photo: Scenes from the Pop-up Globe in Auckland