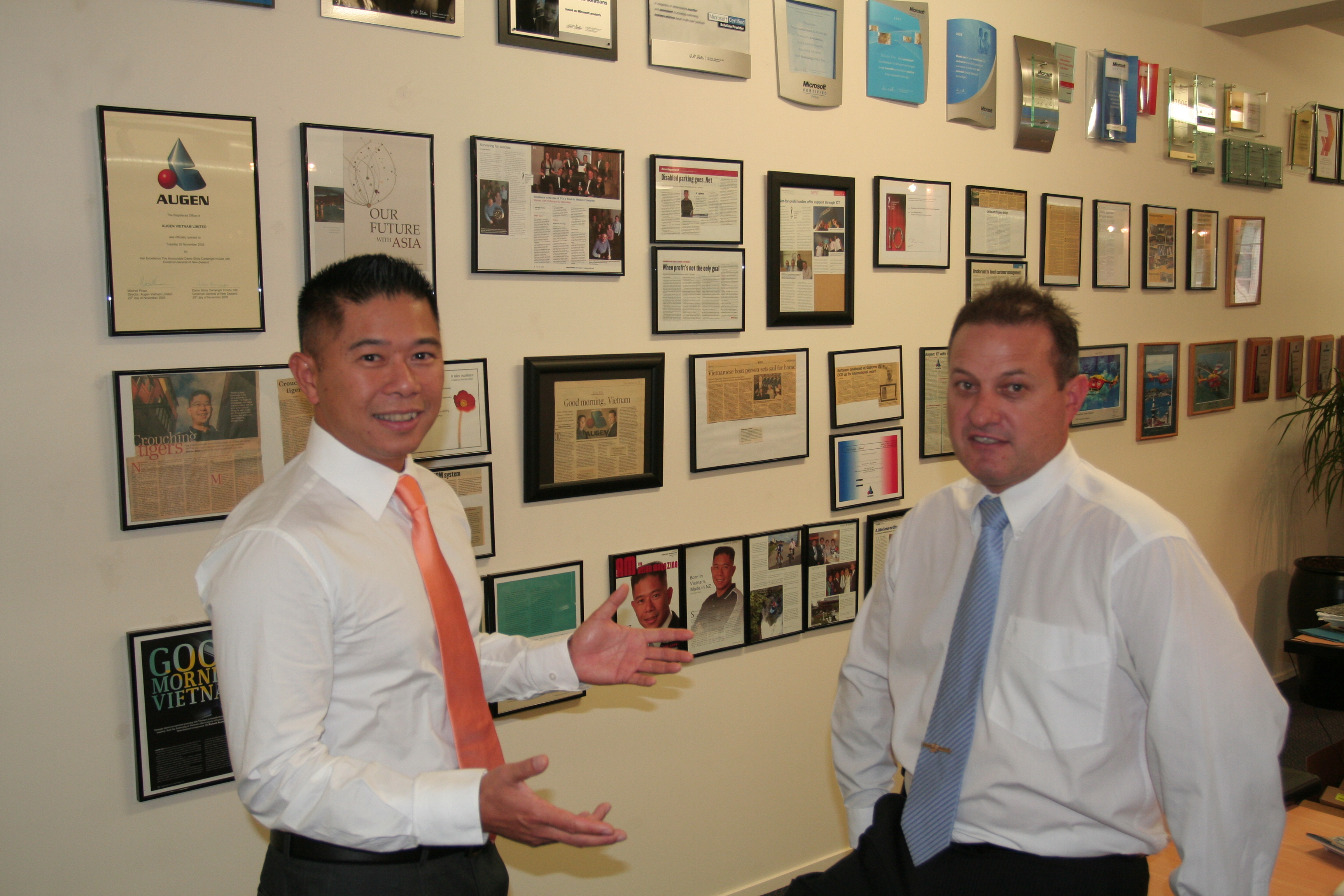 New Zealand firm Augen Software Group has just been recognised as one of the top performers in south east Asia by winning the Emerging Enterprise category at Vietnam's prestigious IT Excellence Awards.
Auckland-based Augen has a fully integrated engagement model between its Vietnam and New Zealand staff and customers, working together as one virtual team.
Director Mitchell Pham, from Auckland, says all of their Vietnam staff have direct involvement with New Zealand staff and customers. All Vietnam staff and New Zealand staff are required to contribute equally together with their customers to the direction, requirements, designs and outcomes of software for their customers' businesses.
"We are seen as totally focussed on optimising our own business model and continuously innovating in our business instead of just copying what others do which is the behaviour of a market leader. We have been going 22 years in New Zealand and 10 years in Vietnam which is ahead of many New Zealand companies.
"Up until now New Zealand is better known in Vietnam for food, wine and primary industries, but not for our prowess in information technology and innovation. That has now changed as a result of our award success. This will really help raise the New Zealand ICT profile in Vietnam and the wider Asian region," Pham says.
The award for Augen endorses their outstanding results at the forefront of the IT industry in Vietnam and dedication to their work as well as Vietnam's IT community as a whole. Augen also has support from the New Zealand Technology Industry Association and the New Zealand Health IT Cluster.
"After 10 years of building our brand and reputation in Vietnam, it was a real honour for a New Zealand company to even be nominated in the first place. We are thrilled to win and be recognised as one of the leaders in that country's massive IT industry." Pham says.
"As a company from New Zealand operating in Asia, we have always seen the need for building our brand and growing our business through collaboration. We have engaged and collaborated with many local businesses in Vietnam over the years, and continue to do so in the local market.
"We believe this is how New Zealand companies can succeed in foreign markets. We have assisted a number of other NZ software companies in exploring and navigating the Vietnam market. Winning the award couldn't come at a better time for New Zealand-Vietnam trade opportunities.
"We are also discussing with New Zealand Trade & Enterprise about banding a group of NZ companies together to collaborate in establishing and growing our businesses in the region.
"In New Zealand, we have worked with many organisations including Auckland and Southern District Health Boards, Auckland District Law Society, Bupa Health Group, Fletcher Challenge Steel Group, GE Money, Hawkins, IBM, University of Auckland and Westpac.
However, there are two significant challenges that stand in our way in New Zealand. There is a significant lack of skilled resource to develop and deliver software innovation. We also see a major lack of experience and capacity in managing and scaling resources to meet the needs when it comes to utilising resources that are external to the business.
"Augen, with our NZ-Vietnam business model, works to address both of the above challenges. This is how we benefit New Zealand with what we do."
For further information contact Augen director Mitchell Pham on 021 623 334 or Make Lemonade media specialist Kip Brook on 0275 030188.
Photo: Augen directors Mitchell Pham and Peter Vile