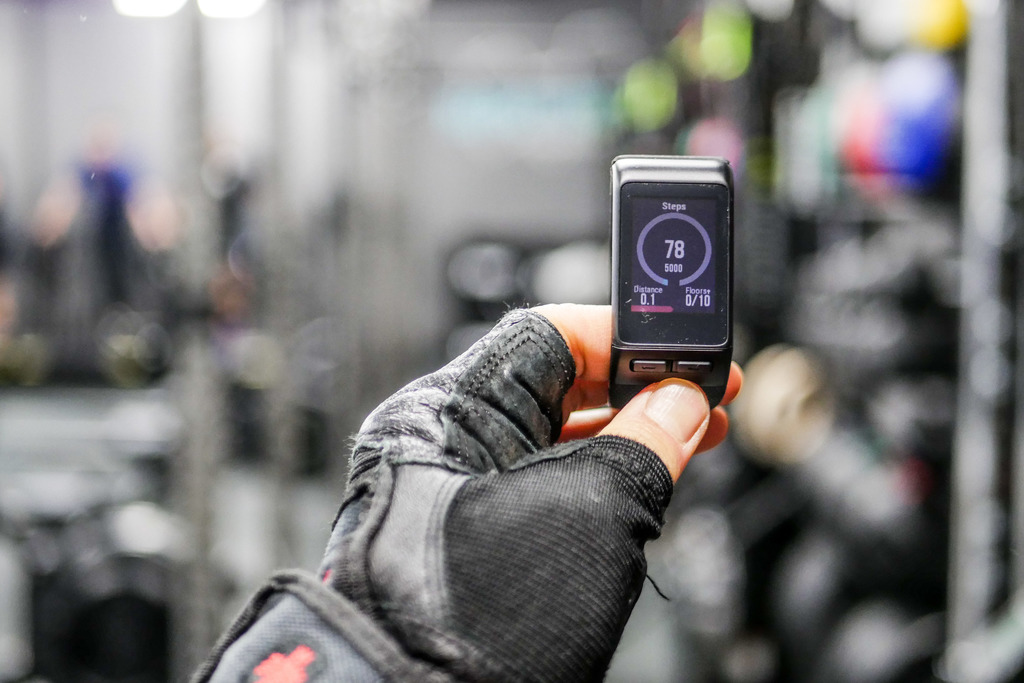 Wearable devices are massively popular right now and we are only beginning to experience the impact they can have on our lives. If you're yet to try one, you're missing out on a massive opportunity for technology to help improve your lifestyle – these devices are powerful tools.
Garmin produces an extensive range of specialist wearable devices for people who want to obsessively track their preferred sporting activity but they also offer brilliant all-round devices like the vivoactive® HR to meet the general needs of everyday people.
The vivoactive® HR is ideal for those who don't have a regular fitness routine, still want to monitor different activities but also want to enjoy the benefits of wearing smart gadget on their wrist.
I wore it for just a week and am already lost without it.
Features I miss the most:
Move bar: It keeps an eye on your daily step count and if you're not on track to meet your goal, will alert you with a subtle buzz and a very to-the-point on screen statement: "Move!". There's also an inactivity bar on the screen which increases the less you move so it appeals to the competitive minded by making a game out of keeping active.
Heart rate: It is clever enough to monitor your heartrate from your wrist so there's no need to wear a chest strap if you want to track your fitness levels. This is a fun and convenient feature outside of exercise too, as you have immediate access to your heart-rate record if you get a fright and it makes for great conversation – people seem to love comparing their health stats.
Notifications: It alerts you when you get social media notifications or text messages and you can dismiss or read short emails, view calendar alerts and answer phone calls all from your wrist. You need to use bluetooth connected to a compatible phone (Android, Apple and Windows 10).
Weather: It has an easy touch screen which allows you to flick screens to see the current weather and daily/weekly forecasts – bluetooth connection to your phone required.
Water resistance: It is water resistant up to 50m so you can go swimming or snorkelling with it strapped to your wrist. This also means that after a hot sweaty workout you can wear it in the shower.
Battery life: The device has exceptional battery life lasting just over a week for general activities and it is quick to fully recharge through USB.
Features I don't miss:
Settings: It has many different setting options but there isn't a common interface between the device and phone app which makes it tricky to find the setting you need. I had to make adjustments in different places to change to the metric system and ensure the scale of temperature was set to Celsius which was a bit of a pain.
Design: Its design doesn't really work on a delicate female wrist as the rectangle face is slightly bulky in height (no doubt due to the heart rate hardware) and the entire device is quite chunky, especially the strap which measures about 3cm wide. When I tried it on a man's wrist however it looked just fine and you can purchase different coloured straps to help funky it up a little. If this is a showstopper there is a range of more attractive Garmin products to choose from like the Forerunner® 235.
Charge cradle: Its battery charge cradle seems more complicated than it has to be and it's a bit awkward to connect and disconnect as it locks itself well into place and needs an almighty tug to get it back out.
Other features:
Auto goal: It is pretty clever because it learns as it gets to know you. So if you meet your daily step goal it'll set you a new goal to help keep you continuously improving. You also have the option to override this and set your own personal goals if preferred.
Activity tracking:  It uses Garmin's Move IQ technology to automatically track periods of sustained activity and recognises a range of different sports like walking, running, cycling, swimming and even golf and snowboarding.
Intensity: It not only tracks your steps, distance travelled and how many stairs climbed but can tell how hard you've exercised by comparing your active heart rate to your average resting heart rate. Health organisations recommend that you do 150 minutes of moderate intensity exercise per week or 75 minutes of vigorous activity. The intensity feature therefore deserves your full attention.
Calories: It uses the heart rate monitoring to establish calories burned and you can also pair the app up with MyFitnessPal to set goals and record your calorie intake.
Sleep tracker: It automatically tracks your sleep so you can review your night's rest and when you were having a satisfying deep sleep or just lightly dosing. You'll also see how often you woke in the night and can compare that to other nights to look for any trends.
Calendar: It has a useful calendar which you can view through the app to get a handy summary of each day's tracked activities. The monthly calendar view is colour coded to give you a simple indication of what was tracked each day and whether you achieved any badges.
Conclusion
Wearing a smartwatch releases you from the ties of a mobile phone and helps you keep better track of your health and fitness. Some may have concerns that having notifications so conveniently attached to your wrist will just add more pressure when we already suffer information overload. I found the exact opposite because I was less attached to my mobile and so ditched the habit of checking my phone every five minutes. My focus switched from worrying about emails and Facebook alerts to actively thinking about my health and how active I was each day.
Currently priced at $NZ449.00, the Garmin vivoactive® HR is a superstar device packed with more features than you could imagine. It satisfies the needs of everyday health conscious people, yet is powerful enough to support the dedicated needs of an athlete.
If you're going to get one of these devices take the time to set it up properly from the beginning and get to know its capabilities as you want to ensure you're making good use of all the features you've paid for.