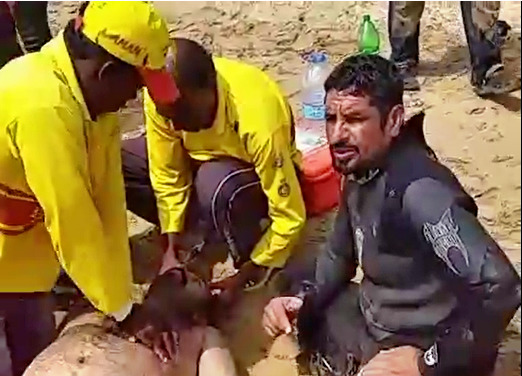 Karachi – New Zealand lifeguards have this week been helping Pakistani surf lifesavers at a beach near Karachi.
Three lifeguards from Auckland's Muriwai Beach also helped contribute to the successful rescue and resuscitation of a Karachi diver who got into difficulties and drowned while repairing an underwater pipeline.
The Muriwai lifeguards had just ended seven days of intensive training of 80 Pakistan lifeguards in Karachi and were moments away from presenting awards when the alarm was raised, Muriwai delegation leader Tim Jago says.
"Several lifeguards responded by road to the incident at a fishing village a few kilometres up the coast. CPR was performed on the middle aged man for several minutes. The man resumed breathing though remained unconscious and was transported by ambulance in a critical condition to a Karachi hospital 40 minutes' drive away.
"Just an hour later Sabir Ali, the teenager who administered the successful CPR, was presented an award for exemplary CPR skills – an award that had been decided the previous day based on his performance in several CPR scenarios," Jago says.
Muriwai lifeguards have now trained more than 200 Karachi coastal villagers to be lifeguards since the Muriwai Surf Lifesaving Club responded in 2003 to an international call for help to curb the city's spiralling beach drowning toll that had reached more than 250 fatalities in the early 2000s. The drowning toll now sits at less than 10 a year along the city's 17 patrolled locations.
This year's Muriwai training delegation is the fifth to travel to Pakistan. In the last week they have retrained 60 lifeguards to qualify as senior guards, IRB (inflatable rescue boat) operators and lifeguard instructors.
A further 20 new lifeguard recruits were trained to join beach patrols in the coming months. Last year Karachi's City Commissioner Shoaib Siddiqui credited the Muriwai club with saving the lives of 3500 Karachi beachgoers.
He also implored the club to expand its development programme to ensure the Pakistan Lifesaving Foundation is equipped with the skills, structures and equipment needed to meet the demands imposed by the 22 million people living in the world's sixth largest city.
Jago praised the skills and passion of the Karachi lifeguards, calling them naturally gifted and inspiring.
"Without being in any way demeaning, most of them have not much of material worth, but they want to give back to their communities. They have a huge amount of humanity. It's really awe inspiring.
"We want to bring a group of Karachi lifeguards to New Zealand this summer to look and learn in our environment. Kiwis will be surprised at the surf skills and lifesaving abilities of these people, and totally humbled by their stories and personalities".
For more information contact Tim Jago on +6421 0824 0694 or Make Lemonade media specialist Kip Brook on 0275 030188
Photo: Muriwai surf lifesavers witness a real rescue near Karachi