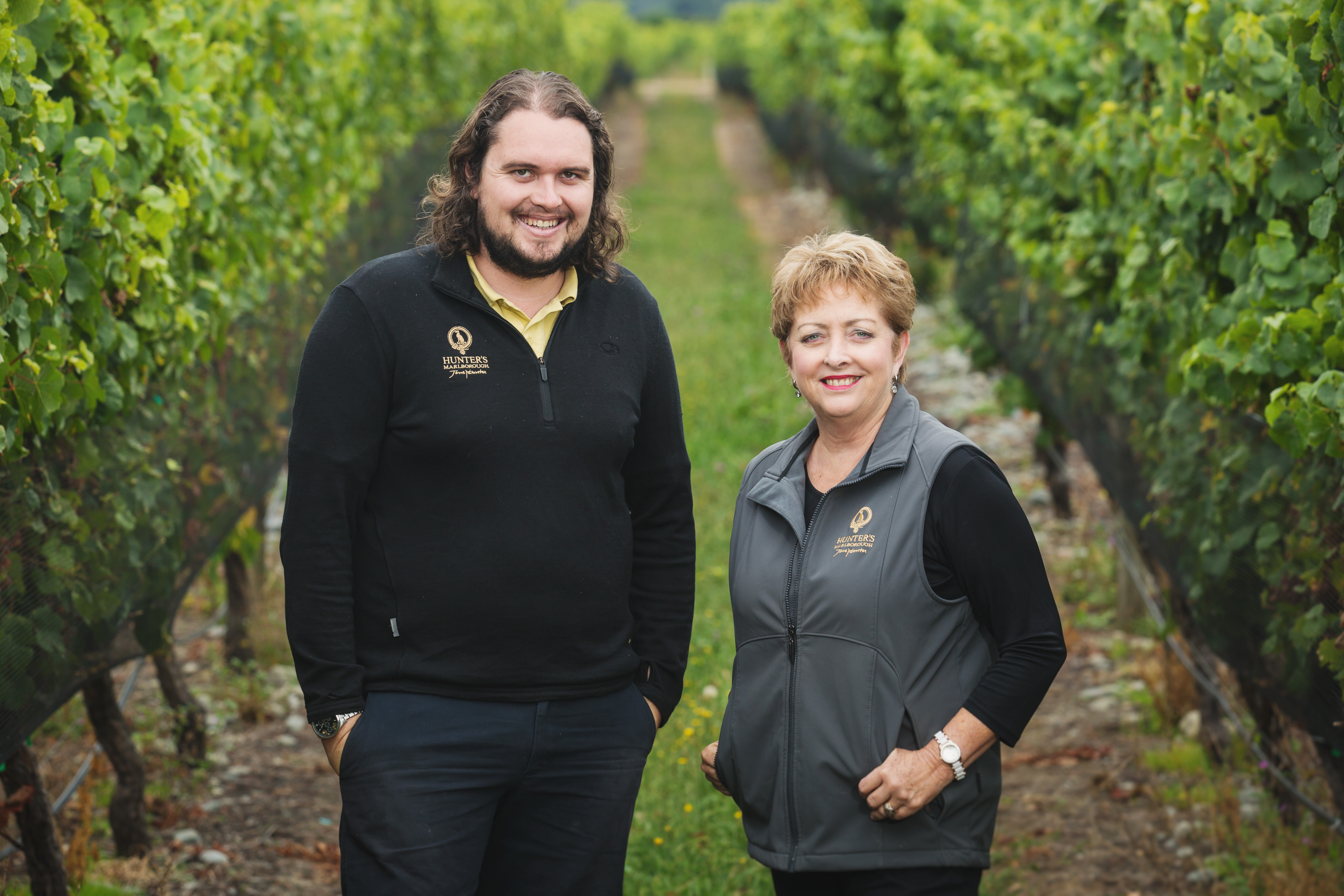 Blenheim – January 7, 2016
One of the leading ladies of New Zealand wine, Jane Hunter says her Hunter's winery is seeing a new generation of winemakers step up and take on key roles as Hunter's approaches 30 years.
She says Hunter's produces about 100,000 cases and export to 23 countries and this is her 29th year in the role of owner and managing director of Hunter's.
"Things have certainly changed in Marlborough since I arrived here in 1983 to take up the role of Viticulturist for Montana Wines.
"We are now seeing eager new blood beginning to take over the reins – and it is exciting. Our Chief Winemaker, Gary Duke, retired early last year after 21 years at the helm of the winemaking team.
"The baton was handed over to my oldest nephew James Macdonald and then assistant winemaker Inus Van der Westhuizen. Gary has remained as a consultant to the winemakers and we also have still retained Australian consultant Dr Tony Jordan who has worked with our winemaking team since 1986.
"James has wine in his blood. He is a fourth generation grape grower/winemaker. His great grandfather and grandfather had vineyards in the Riverland of South Australia and his step-grandfather had a vineyard and small winery in the Barossa region of South Australia.
"James has worked in the winery and vineyards from a very young age and after graduating from Lincoln College with a degree in oenology and viticulture he did vintages in the Riverland, the Yarra Valley, Victoria and Bordeaux, France. In between vintage jobs overseas he worked with Gary back at Hunter's.
"Inus is from South Africa and has been at Hunter's for seven years now. He and James co-share the winemaking along with our newly appointed Assistant Winemaker Katie Laing.
"We are aware that it is vitally important to bring through a younger generation and to that end we have my younger nephew Edward Macdonald returning from London at the end of this month to join the team.
Edward is well versed in the ways of the winery and vineyards having worked in both but he has a degree in commerce and will be undertaking some accounting courses when he returns to round out his management skills to become an integral part of the team.
"James and Edward as part of the family undertake marketing roles and travel on behalf of the company. Jeremy Adsett joined us two years ago to fill the marketing gap. He has gradually added domestic sales to his role and this year will be undertaking his first marketing trip to the USA. He is whizz with social media.
"The younger generation query how things are done, aren't backward in suggesting new ways of doing things and they have boundless energy. We give some latitude but pull things back when we think we need to. Our target for 2015 and 2016 are to have a seamless changeover and to move forward consolidating grape supply and export markets."
Hunter's has had amazing success with their sparkling wines – MiruMiru™ Reserve and MiruMiru™ non-vintage in the past 12 months, winning trophies and accolades in the UK and New Zealand.
Hunter says 2016 looks like being a challenging vintage – as harvest seems to be of late. Wineries have had late frosts, extreme dry and water shortages and we have what looks like being a very large cropping year although obviously there is some way to go yet.
"Recent rain has alleviated our worry about water shortages for a while but we do need more rain to get us through to harvest. The challenges long term are fluctuating exchange rates, challenging climatic conditions and the worry of another over-supply situation," she says.
For further information contact Jane Hunter on 021 21 453601 or Make Lemonade media consultant Kip Brook on 0275 030188.