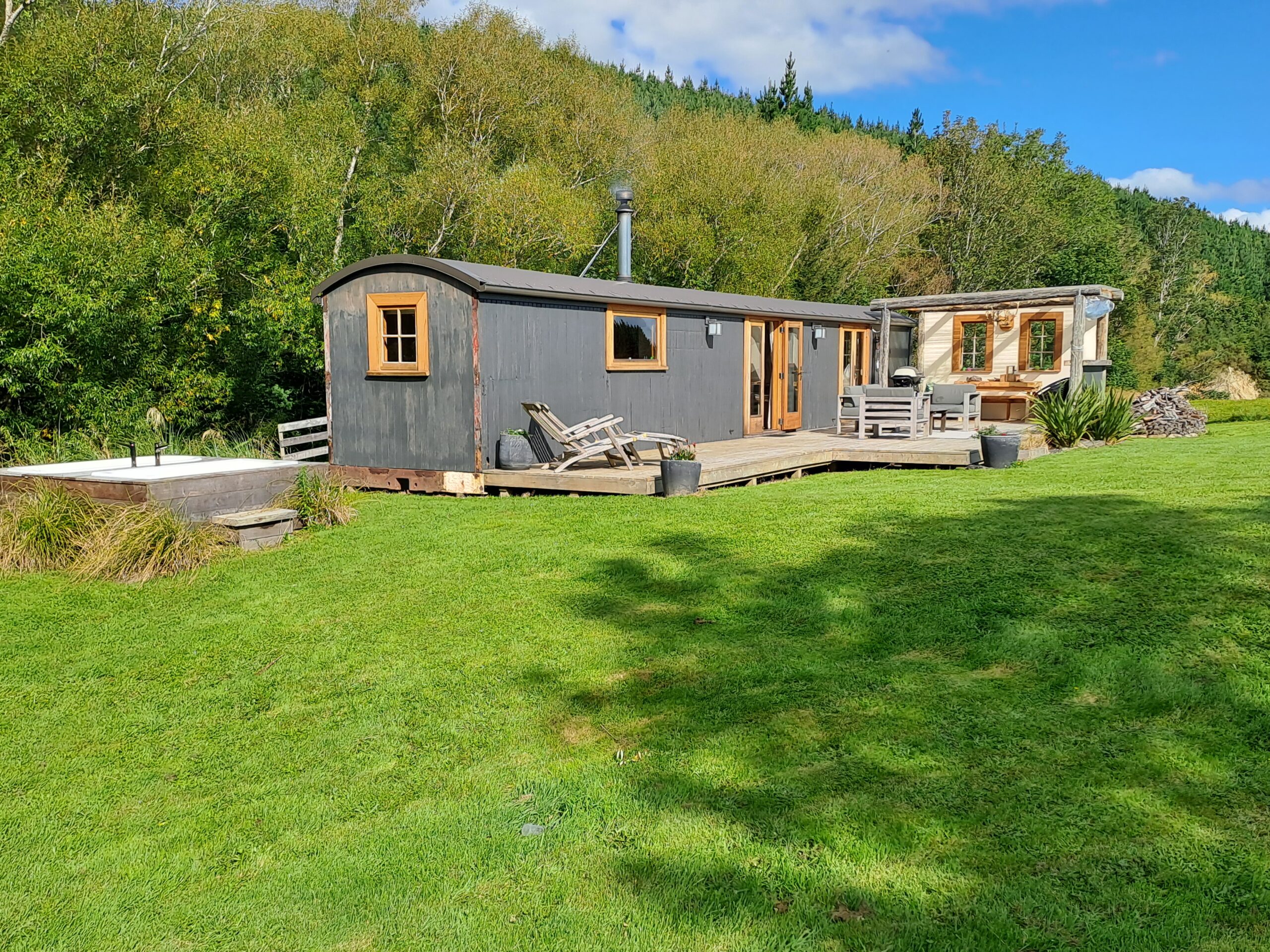 Windwhistle – Glamping is a must do for every New Zealander. Get out and see the country. It's the best way.
It may seem a contradiction in terms, it is like roughing it, but in luxury. So you feel that you have toughed it out, but it is so easy.
They say glamping helps unwind. We didn't realise that until we got home and felt no rush to do anything in a hurry.
We took the punt to go to Rockwood Station at the back of Windwhistle in the Canterbury high country, because it ticks all the boxes.
Rockwood is a fifth generation farm, now just 567 hectares comprising 35 hectares of bush and another five hectares of regenerating bush and another 10 hectares of forestry.
The rest is for grazing. Our hosts Cheryl and Ben Richards run 3200 ewes, 850 hoggets, 160 Angus breeding cows and heifers and they fatten between 3500 and 4000 lambs depending on the season. His stock looked in great condition.
So that's the environment you head into. Bumpy gravel roads and worse, we first thought, off the grid: No electricity, no laptops, no cellphones, no cafes. How would we survive?
But being off-the-grid which we thought would be challenging was such amazing fun. Life started to stand still. The silence was deafening apart from a little trickle in the merging of two streams behind the carriage. There was even a safe water swimming hole there. There were sandflies but mozzy zapper kept them at bay.
So we tootled off into the Canterbury plains and up the lower slopes of the high country. We were risking it big time, for city slickers, being out of our comfort zone.
Then we arrived on the neatly mowed lawn by the Rockwood Carriage, a converted 15-metre long 1953 goods rail waggon. It is nestled in an old grazing paddock gazing up at snow-capped Mt Hutt. The carriage is solar-powered and has a back-up generator.
The place is stunning and brilliantly located. It has two double beds, or bedrooms with a single bed. It has a kitchen dining which included our central focus for three days, Sparky, the name of our roaring log burner built by Wagener in Northland. We had the best warmest sleeps ever.
The two inviting outdoor baths with hot running water came from the neighbours found lying under trees and were re- enamelled in Christchurch. I still can't work out how the hot water arrived as we were off the grid. Magic.
There was also an indoor bath and two bathrooms, so a lot of stuff for a single 70 year old rail waggon, without wheels. Life slowed down very quickly.

The weather at first was bitingly cold, which is bread and butter for farmers who have to brave all conditions year round. A few days later, snow lay about, the first time Ben and Cheryl had seen snow there in March.
Like much of the world, we accept climate is changing with more damaging floods, unseasonal storms, severe winds and summer droughts. It is happening, much the same as we are not staunch anti-gravity supporters. We deal with the here and the now.
Cheryl and Ben Richards bought the Carriage off Trade Me a few years ago and refurbished it to a high standard which is every bit worth $295 a night, with the warbling sound of bellbirds, kererū , kingfishers, tomtits, fantails and occasional tūī thrown in for free.
There were bush walks close by, Lake Coleridge and its hydro power station, ski fields, Rakaia Gorge and little Methven full of pubs and shops. But taking in the high country air, soaking up the tranquillity did it for us. Ben was a great help, was full of knowledge and had some great stories about the land. We will be back.
For more details: https://www.canopycamping.co.nz/rockwood-station-carriage