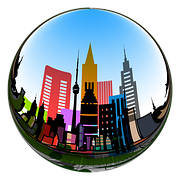 Auckland – November 10, 2015
Three leading New Zealand planners who have played major roles in shaping the future direction of New Zealand have been honoured for their outstanding services.
Graeme McCarrison and Phil Mitchell of Auckland and Graham Spargo of Wellington are the 2015 recipients of the New Zealand Planning Institute's (NZPI) Distinguished Service Awards.
All three have played major roles in big projects around New Zealand for a number of years, NZPI chief executive Susan Houston says.
"Dr Mitchell has made a significant contribution to the planning profession during a career spanning more than 30 years. He is currently a director of Mitchell Partnerships Limited, an environmental consulting practice with offices in Auckland, Tauranga and Dunedin, which he established in July 1997.
"Phil assisted with the establishment of, and was a founding national executive member, of the Resource Management Law Association. He has the distinction of being one of only two non-lawyer presidents of the association, holding that position from 1999-2002. He has also been a member of two of the Government's Resource Management Act technical advisory groups, the more recent of which recommended amendments to sections 6 and 7 of the Resource Management Act 1991.
"By virtue of his active involvement in major and sometimes contentious projects acting for clients and as a hearing commissioner Phil is a nationally recognised leader of New Zealand's planning profession. Most recently, he was appointed a member of the hearings panel for the Christchurch Replacement District Plan."
Dr Mitchell has been a member of the NZPI since 2004 and has provided significant mentoring to team members over the past several decades, many of which are now leaders in their respective fields in their own right.
Spargo has made a significant contribution over many years to the image and practice of planning in New Zealand. His 28 year planning career has included senior local government roles, as well as a diverse range of consulting and expert adviser roles.
He was North Shore City Council planning manager in the 1990s, a director of Hill Young Cooper in Auckland in the late 1990s and director of strategy and planning and the Dunedin City Council in the early 2000s. He later broke new ground for the Wellington region councils for integrated land use, transportation and economic development activity.
"More recently as a technical director at Beca, Graham has had a major input in RMA reforms; planning for the earthquake recovery in Christchurch; leading the RMA approvals team for the MacKay's to Peka Peka expressway project; and being a champion for the integration of RMA planning practice with Treasury and NZTA business case assessment frameworks," Houston says.
McCarrison became a full member of the New Zealand Planning Institute in 1980 and has more than 30 years' experience. He has held senior roles in Waikatere and Auckland city councils and was appointed as the transition advisor-resource consents at the Auckland Council assisting council transition regulatory services into a single unitary council framework.
Houston says McCarrison's focus in more recent years has been within the telecommunications sector and he is currently the engagement and planning manager at Spark New Zealand. He has provided strategic and technical guidance to support the development and expansion of the telecommunications industry in New Zealand.
"He was part of the NZ Utilities Advisory Group technical group that developed the guideline to the national code of practice for utility operators' access to transport corridors and also worked with government ministry groups relating to telecommunications facilities.
"Graeme has provided expert evidence on a number of plan changes on behalf of telecommunications organisations, including national and regional policy Statements, such as the New Zealand Coastal Policy Statement and National Environmental Standards," Houston says.
For further information contact NZPI chief executive Susan Houston on 021 555754 or Make Lemonade media specialist Kip Brook on 0275 030188.