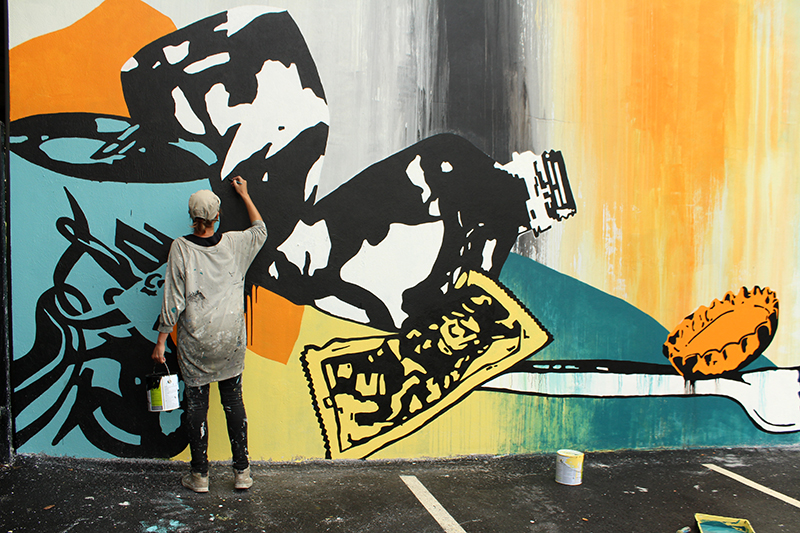 Auckland – A Queenstown based artist is just about finished her fourth giant mural on a five-city New Zealand pollution awareness tour dubbed; New Zealand's Worth Loving.
The Auckland mural by artist Tess Sheerin can be seen on a giant wall of the Bruce Mason Centre in Takapuna.
The massive art work is based on a crayfish which has a jubilee clip and nova coil fixture around its stomach. Similar to the previous murals the artwork includes a drainage fixture, the aim of this is to draw attention to what people are putting down drains.
"Takapuna beach is a great location and a spot for cleaning up pollution, which I'll be doing on Friday this week, teaming up with the Keep New Zealand Beautiful team. The clean-up is also supported by Auckland Live and Takapuna Business Association."
Sheerin's giant mural tour started in November 2015 to highlight marine and water pollution issues. She has created large-scale exterior murals in Queenstown, Dunedin, Christchurch and now Auckland and her final visit will be in Wellington, starting in July 2017.
Sheerin has already painted a mural of a rainbow trout in Queenstown, a crested penguin in Dunedin, a fur seal in Christchurch and now a crayfish in Auckland. She plans to create a bottlenose dolphin mural in Wellington.
"Rubbish washes out to the ocean and animals are drinking up a sludge of plastics as they cannot break down. I hope these murals up and down the country will make people sit up and consider these important environmental issues."
Sheerin says cities need large murals to brighten and tidy up some areas and her New Zealand pollution awareness project will make cities more connected with their communities.
"Legal public street art murals all over the world are being commissioned by local business owners, home owners and even city councils. Public art has the power to change the landscape of their communities," Sheerin says.
"By commissioning and supporting an exterior wall of a building to become a canvas helps improve the look of the building and the surrounding area. It discourages tagging and becomes a destination for the community while contributing to a rise in property values.
"Neighbourhoods with the most murals in New York are the Lower East Side and in Harlem, which weren't good neighbourhoods. But mural artists there are getting more requests to paint murals on buildings in these areas because landlords believe they will help attract tenants."
Her works have featured in many exhibitions in the United Kingdom, Christchurch and Queenstown. People who want to support the cause can visit Sheerin's site: http://worthloving.org/
For further information contact Make Lemonade media specialist Kip Brook on 0275 030188.
Photo (by Ross French): Artist Tess Sheerin's latest giant works at Takapuna