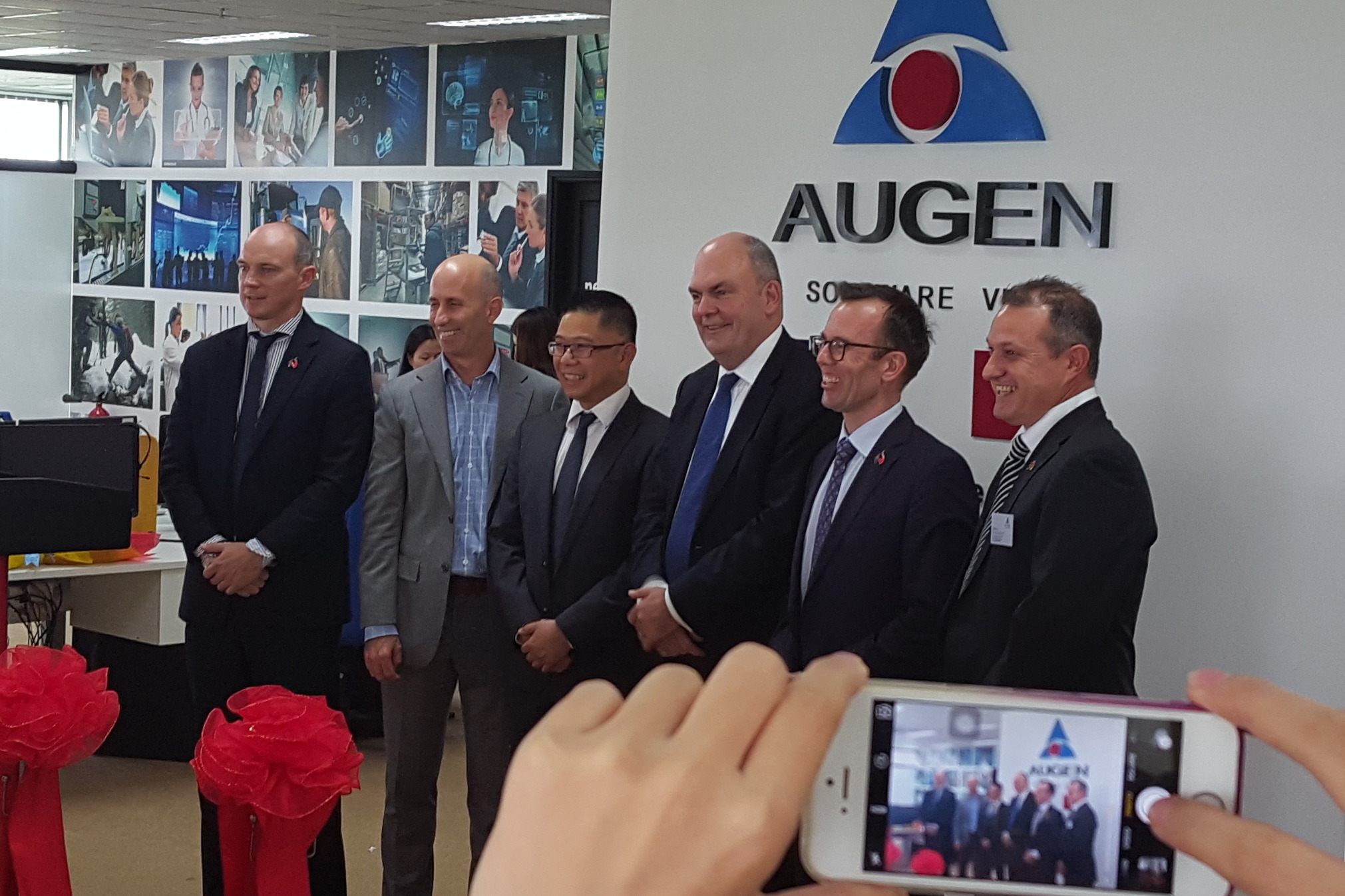 Auckland – A Kiwi technology hub which has just been opened in Ho Chi Minh City, Vietnam, marks the start of a bright new era in New Zealand and Vietnam tech trade connections, Augen Software Group says.
The Kiwi Connection centre at Quang Trung Software City is now the gateway for delivering Kiwi technology in Vietnam. Augen, one of New Zealand's leading tech firms with strong Vietnamese connections says the tech hub will support New Zealand ICT and hi-tech companies investing and doing business in Vietnam, as well as across the wider ASEAN region.
Augen Software Group director Mitchell Pham says New Zealand tech companies now have access to Vietnam's largest software park. The technology hub will give Kiwi tech innovators both capability and capacity to deliver technology to fast-growing Vietnam.
Augen has been in Vietnam for more than 10 years and hopes to use its experience to help other New Zealand businesses move into the Southeast Asian country. Vietnam's digital economy is the largest and fastest-growing in the ASEAN region and the country is New Zealand's fastest-growing export market.
Healthcare technology company Orion Health, manufacturing technology company ShapeShifter and insurance technology company HaelthTech are the first New Zealand businesses to join the hub. ICT and high-tech manufacturing is New Zealand's fastest growing export earner. The sector grew to more than $6.5 billion last year.
The opening of the Kiwi tech hub coincided with the first direct Air New Zealand flight between Auckland and Ho Chi Minh City. Pham says Augen became the first New Zealand company to win the prestigious Vietnam IT Excellence award last year.
"We have also been well supported along the way by New Zealand Trade & Enterprise, Ministry of Foreign Affairs and Trade, NZ Technology Industry Association, NZ Health IT, NZ Software Association, Auckland Tourism, Events & Economic Development and Grow Wellington.
"Having minister Steven Joyce at our opening didn't just further elevate the level of enthusiasm in everyone at the event and completely amazed our local staff and business network. More importantly, it sent a strong message to the Vietnamese that New Zealand is serious and committed to bringing our knowledge, capability and intellectual property strengths in ICT and high-tech to support Vietnam's industries to grow and be able to compete internationally.
"The NZ tech sector is already physically present in Vietnam. We take an enduring relationship approach rather than transactional, and we are committed to engage with Vietnam for the long haul. The government support brings credibility to what we are doing and how it will benefit businesses and the economy in both countries.
"As Vietnam continue to engage in international trade agreements, the country's diverse range of industries have huge growth potentials and long trajectories. It is well worth Kiwi tech companies being early movers in their respective target sectors, and speed-to-market is an important if not critical success factor.
"We will be delivering tech solutions from New Zealand into the Vietnamese domestic market to meet rapidly growing consumer, commercial, agricultural, industrial and even government needs. The results will bring improvements to individual businesses and lift the capability of Vietnamese industries to compete internationally.
For further information contact Augen director Mitchell Pham on 021 623334 or Make Lemonade editor-in-chief Kip Brook on 0275 030188