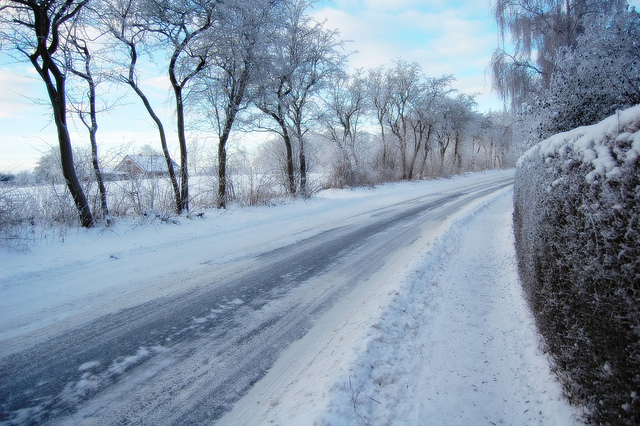 The All Blacks and all the supporters who made the trek to the Rugby World Cup are getting out of London just at the right time next week. Anyone heading to Europe from now can soon expect the onslaught of wintry weather and icy road conditions in the coming months.
The icy Siberian blast usually sweeps across the UK causing massive disruption to transport from December through to March. London's Heathrow airport, one of the busiest in the world, can be affected by the icy conditions. Italy has previously ordered trucks off the roads for a week. European rail operators often advise customers to expect long delays.
Be warned, especially if Kiwis are visiting the UK for the first time and are unused to real wintry conditions, driving can be dangerous when the Arctic freeze tightens its grip and threatens the road toll.
Across the Atlantic, hundreds of US motorist die annually because of ice on the roads. During the 2008-2009 winter, icyroadsafety.com compiled a list of all reported fatal road ice-related accidents in the United States. Based on reports, there were at least 477 deaths due to icy roads in the United States during the 2008-2009 winter.
But a New Zealand invention designed to help reduce the winter road toll could be rolled out across the world, after successful trials in the South Island. Solar Bright's world-first icy road warning system, which uses solar-powered markers that flash blue when conditions are icy to warn motorists to slow down and drive with caution, are fast picking up interest from other countries.
The markers are a world-leading development, and are attracting interest from all over the world. Award-winning Solar Bright, from Christchurch, already holds patents and trademarks for the blue markers in 96 countries. They are talking to people in the United Kingdom, USA, Canada, Russia, Europe and Japan.
The blue markers would help the economy by reducing Government spending on hospital bills. Road accidents in New Zealand are enormously costly and the markers have already reduced the accident rate because they slow drivers down in black ice conditions, definitely saving lives.