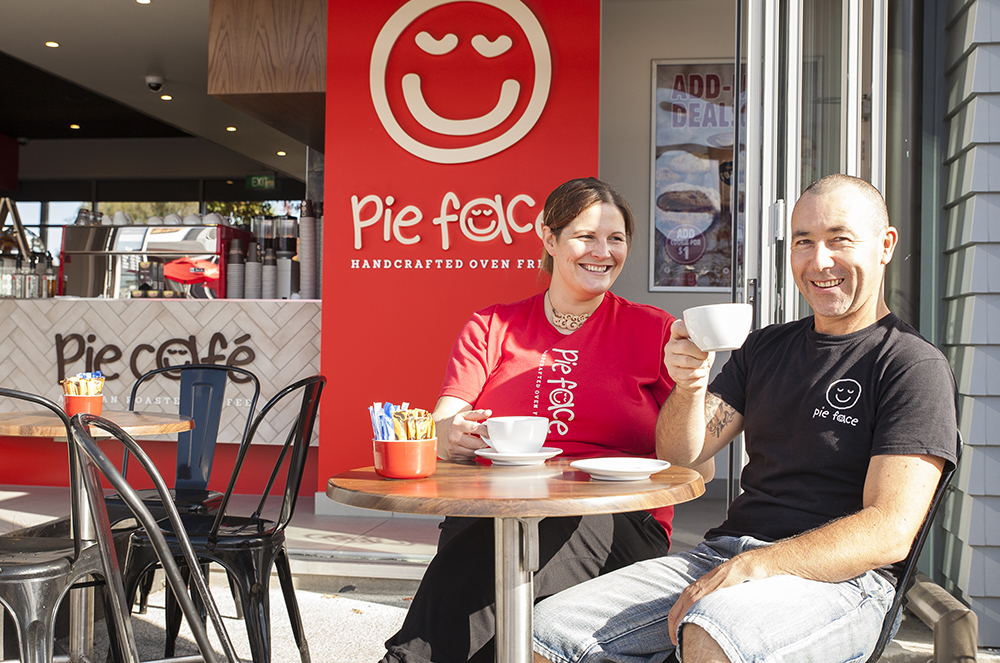 Christchurch – May 18, 2016
A fast growing New Zealand food franchise, Pie Face which hopes to have 30 outlets within five years, can now be found from Southland to Auckland as New Zealander's can't get enough of these hand-made pies with novelty faces that are packed with taste and character.
A new Christchurch store has just opened in the Bush Inn Centre and it is fast becoming the place to go for great coffee and top quality pies.
Pie Face NZ director Julian Field says the brand is cheeky and fun; people love that point of difference with faces being drawn on the pies to denote the different flavours.
"Pie Face is 100 percent New Zealand owned and operated, all ingredients are locally sourced and pies are baked fresh every day in store," Field says.
"Kiwis love their pies, but people are wanting that extra quality now too which Pie Face offers with a very high meat content, no added preservatives or additives and using only the highest quality ingredients such as 95cl grade beef."
Pie Face has five stores located at Auckland University of Technology in Auckland, Auckland airport, Caltex Balclutha, Bush Inn Christchurch and its newest location at Caltex Gore. The franchise is fielding a lot of interest from prospective franchisees in Auckland and Wellington. Field hopes to have 12 new stores opened across the country by the end of 2017.
"The vast majority of our stores will be independently owned and operated by franchisees so they are at the coal face driving the business themselves. Caltex based stores are an obvious fit due to Pie Face's strong coffee offering combined with pies and pastries which is great for people on the go."
2016 brings the 20th annual Bakels New Zealand Supreme Pie Awards with the winners named on July 26. This is a premier event for NZ bakers and with the average Kiwi eating 12 meat pies a year, the event is monitored throughout the country.
Pie Face NZ will be entering the competition for the first time this year and looks to win the judges' hearts and taste buds.
With the Budget announcement next week Pie Face is offering finance minister Bill English a selection of pies and pastries to help him maintain his energy levels throughout the lengthy day.
For further information, contact Pie Face NZ director Julian Field on +64 21 281 7536 or Make Lemonade news editor Janelle Blythe on +64 21 662 138
Photo: Pie Face Bush Inn Christchurch, franchise owners Darryl and Angela Battaglene