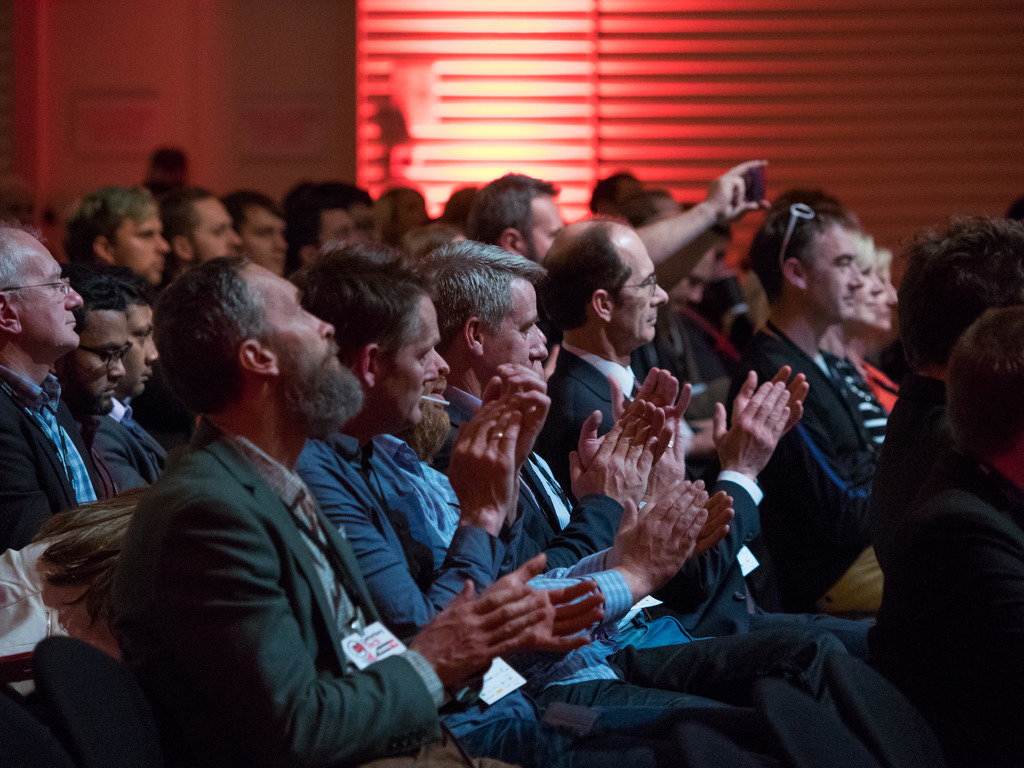 The 14th Canterbury Tech Summit held at New Zealand's Air Force Museum on September 15th was an outstanding showcase of how Canterbury's tech sector is heading from strength to strength.
The sell-out event attracted more than 650 people from across New Zealand's tech sector which thoroughly impressed Prime Minister John Key who attended as a surprise guest.
John Key told Make Lemonade that aside from being one of the only people there wearing a tie, the summit was a lot bigger than he expected and shows the region and its technology is in good heart.
"The summit was a lot bigger than I thought. It just shows you how strong Christchurch and Canterbury are and how committed we are to the region by coming along to something like this. "We knew technology was an important part of the Christchurch rebuild because it was already an important part of the economy and it is attracting more people here as a result of that," Key said.
It was Canterbury Tech's biggest summit yet and the Prime Minister was correct to reference the region's strength, as this event was a perfect demonstration of the massive array of people that are keen to work together to help grow Christchurch, Canterbury and New Zealand's tech sector.
The balance between corporate and community at the summit was bang on. Flick Electric Co. sponsored the community zone allowing 11 community organisations to have a presence at the event, watch the thought provoking presentations and mingle with future mentors. It was satisfying to witness the enthusiasm of the Ara Tech Girls who were bubbling with excitement and so appreciative of the opportunity to be part of it all.
Standing proud among the 26 exhibitors and alongside major successful tech companies like Jade, Assurity and Trimble were two of the youngest in attendance; 12-year-old Kaleb O'Donnell a frontend developer and his 14-year-old colleague Asher Foster a backend developer. They took the chance to hang out at the Sourced exhibit for the afternoon and told us it was a great opportunity for them to listen, network and talk about their own tech startup Developster which helps kick start the journeys of teen entrepreneurs.
The Fourth Industrial Revolution
It is exciting to think of the generations involved on the day and the decades of knowledge that came together from all around New Zealand and overseas in a bold effort to help all Kiwis prepare for the future of tech – the theme of the day was after all: The Fourth Industrial Revolution (if you're not up with 4.0 check out this video which explains all).
An important part of the day was looking at how we can prepare for the massive tech growth that will affect all of our lives in more ways than we can imagine and sooner than we can comprehend. The topic was approached in many different ways with warnings from the wise, doubt from the cynics and entertaining showcases of what's to come from those who just love to play with gadgets.
Keynote speaker Sir Ray Avery is a loveable Kiwi character who always has a story to tell and never fails to make you chuckle. He kept the audience enthralled with his charming and humorous anecdotes and said that everyone in the room was a born innovator. Sir Ray warned however, that the current education system was designed for industrial revolutions of the past.
Sir Ray has lived in New Zealand since 1973 and told the audience this is one of those countries in the world where you can be anything you want to be.
"New Zealanders are the masters of disruptive innovation. There are three unique characteristics that enable us to dream big: we're not fond of rules, we have no respect for the status quo and we invent cool stuff that fundamentally changes the world. We just don't tell the world how clever we are," Avery said.
Sir Ray who is well respected for his entrepreneurial and philanthropy efforts, expressed the importance of customer centric design. This got a huge thumbs up from the crowd, especially the user experience experts like Atta Elayyan chief of LWA Solutions who had an exhibition at the summit and was really pleased that to hear the importance of the user experience being recognised. LWA Solutions is a Christchurch app startup that takes great pride in their user-centred solutions.
Take a look at thelifepod.co.nz for an example of the amazing work Sir Ray Avery does to help save lives.
The presentations
There were 12 presentations offered throughout the afternoon, split into three different streams to appeal to the tech-minded, business-savvy or those who were keen for some interactive learning in a workshop or tutorial.
Of course it's tricky to be everywhere and listen to every great talk so the below written account reflects a bold effort to capture as much as possible so that you can get a taster for why this event is so popular…
The hot topic of security
Laura Bell, founder of application security company SafeStack told us she loved the mix of people at the summit and the sense of innovation coming from the South Island and Canterbury region.
Bell gave an energy-packed and animated presentation explaining that security is everyone's responsibility and technologies have advanced so quickly, security has struggled to keep up.
"Security isn't something you have to wait to do once you are mature. It is a combination of hundreds of tiny little steps and changes we all need to do every day to keep our applications safe online. This all starts from when you have your idea and has to happen every day from then on.

"I want my job to be redundant because you guys are doing things differently," Bell told her audience.
Atlassian head of security Craig Davies received a standing ovation at the end of his presentation due to impressing the audience with the company's fresh approach to security. The amount of server instances Atlassian is responsible for is in the hundreds of thousands, so what Davies had to say definitely had credibility and held people's attention.
This company believes that behind every great innovation is a great team and you get the feeling this is a pretty cool office environment to work in. Staying true to tech-fashion these folks have Formal Fridays each week (perhaps someone should have reminded the Prime Minister that it was only Thursday).
Innovation is embedded into their approach to everything at Atlassian whether technology is involved or not. New staff inductions can be a drag for anyone but newbies at this company attend a rocket fuel recruitment programme. New recruits are given a personalised boarding pass (with QR code) that gives them access to everything they need to get started – a unique and fun approach that also reduces the security risk of old-school techniques that still hand usernames and passwords around by way of manager emails or scraps of paper.
Davies was even offering up job interviews during his presentation, stating he needs security people in Sydney and would conduct interviews that day (now there's an opportunity!).
Tools for success
There are so many people and organisations out there that want to see New Zealand businesses succeed and an advantage to attending this summit is that there are so many experts available and willing to talk things through and offer help.
Callaghan Innovation is one of those organisations that every small business should approach, whether you're just at the ideas stage or are an established business breaking new ground. They are a Crown entity that helps promote excellence in innovation and wants to make the road to success easier, faster and less risky for businesses of all sizes.
Simon Brown from Callaghan Innovation presented about helping digital tech companies succeed and said New Zealand businesses had the right chemistry for tech success and the market was right for Kiwi tech exploitation.
Also present for the afternoon and keen to help businesses succeed was Parry Field Lawyers. Okay, so law firms aren't the traditional type of companies you'd expect to see presenting to tech crowds but no doubt we'll see more of this as startups are being encouraged to be smart about their legal structures right from the get go. Young businesses are also expecting more from their service providers and Parry Field agrees they should.
Kris Morrison, partner at Parry Field Lawyers, said they are willing to think creatively about the services they offer and embrace innovations in the way they do things. Kris was impressed with the number of people who attended the summit and the willingness of Canterbury tech businesses to work together and share ideas in trying to reach global markets.
Working together to share ideas is something that many people are impressed with about Canterbury which is no doubt why the region's tech sector is growing from strength to strength.
Last year's summit keynote speaker, NZTech chief executive Graeme Muller, attended the event and told us he could see Canterbury's technology industry growing with every visit to Christchurch.
"The Canterbury tech sector contributes $2.4 billion worth of GDP and 14,837 jobs to the local economy and combines grassroots organisations with large technology companies to produce some of the best innovations in New Zealand," Muller said.
If you haven't seen the Digital Nation report yet, you should check it out as it contains great facts about the impact that tech has on NZ's economy (facts that John Key referenced in his address at the summit). It's on the Digital Nation site: http://digitalnation.nz/
Kiwi inspiration
Chris Morrison director of Karma Cola presented his inspirational story of how you can make the shift from the backyard shed to international markets and still find a way to give back to people in need.
Karma Cola has hit on a brand that is changing the ethical soft drinks market. They get their coco beans from Sierra Leone and a portion of the profit goes back to villagers who grow the Cola nuts. This year they have given $100,000 back to a community in Sierra Leone which has helped allow girls in that village go to school. Karma Cola received a world ethical award in 2014 for their approach and are really making New Zealanders proud.
A fellow speaker with Morrison was Dave Tinkler, a director of Howard and Co, an investment company that has provided equity for Karma Cola. Tinkler shared how Karma Cola knew they wanted to go global from the very start.
"They took steps to prepare right from the beginning. They did the simple things correctly and got a good board. They secured their IP and organised their distribution channels. In raising capital last year, they were fully prepared. There were no surprises in due diligence. They did not disrupt their business while going through this process. It was an easy transition for them. There were no last minute hitches. Technology plays a big part in their marketing as they do a lot on social media. Karma Cola do everything very well. Companies can learn from Karma Cola," said Tinkler.
Sian Simpson, the Silicon Valley, San Francisco based global community manager for Kiwi Landing Pad, expressed her passion about New Zealand and technology. She says she lives and breathes technology.
"I want technology to be New Zealand's No.1 export," Simpson said.
Kiwi Landing Pad (KLP) was established in 2011 to help selected high growth New Zealand technology companies establish and grow their business in the USA. Supported by prominent New Zealand technology investors and New Zealand Trade and Enterprise, KLP offers New Zealand technology companies residence at their office in San Francisco. Tenants gain access to a wealth of experience and are able to create invaluable networks in the US technology, business and investment community.
What about innovation and 4.0?
George Wills from Media Suite demonstrated some brilliant, award-winning innovations that have helped with the Christchurch recovery. Their creative use of OpenStreetMap to communicate with road work crews has helped to get up to date information pushed to car navigation systems to help better direct transport. Take a look at their case studies to find out more about Transport for Christchurch and another great system Forward Works Viewer which has proven how effective collaboration between public and private sector can be.
Vodafone had Scott Pollard share some of his ideas on what we can expect with the future of sensor technologies. One cool possibility is a safety jacket for cyclists that connects with an app. The cyclist uploads their destination to their phone which connects to the jacket. The jacket then knows the route the cyclist is taking and is able to display large, bright directional signals on the back of the jacket. So if the cyclist is about to head right, a massive right arrow appears on the jacket to warn traffic. Just an idea at this stage but enough to get the audience thinking about the possibilities.
So what did the panel have to say about the fourth industrial revolution?
John Ascroft from Jade gave sound and sensible advice stating the best way we can move forward is to have an alliance between education, the private sector and government and more job rotation between the sectors.
Rob Lindeman from HITLabNZ wasn't convinced we need to panic as he's seen technologies like virtual reality on the scene since 1992 without much growth. Lindeman said we need to educate the next generation to be problem solvers, communicators and cross disciplinary.
Gabe Rijpma from Microsoft doesn't believe we're in the fourth industrial revolution just yet but said these are exciting times because the technologies will help to amplify our human abilities.
Kaila Colbin from SungularityU is adamant that we're totally unprepared for what is about to hit us and warned that we've reached a stage where all technologies are starting to converge.
Jordan Carter chief of Internet NZ
closed things off for the day remarking on the diversity of people in Canterbury who are at the reconstruction frontier.
Carter finished with a simple statement that fully captured the sentiment of the day:
"From here we can do anything if we work together"
The video below is about the wonderful sponsors that helped make this event happen because we think they deserve a plug: